---
Crosby Lifting Equipment & Rigging Catalogue
The world's largest online selection of crosby lifting and rigging products displayed online with full specifications
In this category we offer the complete Crosby Group Catalogue of lifting and rigging equipment and accessories. The Crosby Group was a goal to develop into a single source for lifting and rigging accessories targeted lifting industry and material handling industry with the highest levels of quality control, We at Lifting Safety are the route to market with probable the most comprehensive and easily navigated Crosby catalogue seen anywhere on the web across the globe. Through a creative program of product development and the Crosby group has grown into what we considered the standard that all other manufacturers' strive to achieve. When buying Crosby, you're buying more than simply a product, you're buying uncompromised Quality. Crosby's competitors' products cannot be substituted in place of Crosby products just because they "look" alike. Crosby Group Lifting equipment products are manufactured with the highest design factors in the industry. Crosby group rigging products are better able to withstand abusive field conditions because of the improved impact and fatigue features designed into every item.
The Crosby Group have probably achieved the quality standard and range of products and options that all other manufacturers of lifting and rigging accessories aspire to attain; they have a worldwide reputation for offering excellent quality and a massive range of products
Competitive Pricing
We will always do our best to be awarded with your order by being very competitive, discount is negotiable dependant on order value, quantity and annual consumption of items across the whole range of equipment. Our aim is to build long term relationships with rigging accessory users worldwide, we hope to achieve this by offering good product knowledge, excellent customer service and rigging equipment supplied at low price to high volume users.
We are especially keen to win business from end users who have not yet experienced the Crosby product range. Please contact us with details of Crosby alternative products that you presently use; lifting equipment from other manufacturers and suppliers, we will then try to surprise you, offering 'The Best' for less than you thought was possible!
As well as the Crosby range of products we also offer other general rigging equipment which also may be of interest.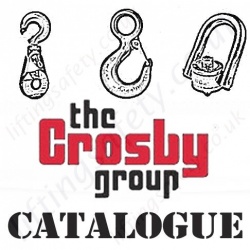 ---
The range of rigging accessories available from Crosby are wide and varied and always excellent quality. We offer turnbuckles (rigging screws) with a range of sizes and safe working loads greater than any other manufacturer that we are aware of. Our Crosby Swivel hoist rings great choice and range as do the options available for lifting rings and lifting eyebolts. Please contact us at any time for help and assistance in selecting the most suitable rigging accessory to suit your application.
The range of Crosby swivels are to available in a wide variety of capacities, sizes and styles / designs, most are galvanised for corrosion resistance and there is a good choice of end fittings (eye, jaw, bullet etc..) A swivel is designed to allow a load to rotate freely to make for a more controlled safer lift / pull; some of the greater safe working loads are fitted with tapered roller bearings for easier movement. We offer light duty and heavy duty products to suit your individual application.
This category contains an excellent choice of Crosby wire rope fittings that include an wire rope grips (bulldog grips) of many different designs, materials (galvanised and stainless steel) and safe working loads (capacities). All the equipment marketed here is for the manufacture of wire rope assemblies for lifting and pulling applications.
The Crosby Group are probably best known around the world for their legendary hot dip galvanised Red Pin lifting shackles available as Bow shackles, D shackles and as wide body lifting shackles. The range is massive with capacities available up to 400 tonne safe working load. Most of the red pin shackles are available with a choice of different types of locating pin though are mainly either Screwpin where the pin screws in to the body of the shackle or safety pin where the pin is captivated by a split pin stopping the pin from vibrating loose, this can be supplied with or with-out a nut. Shackles can meet the performance requirements of US Federal Specification RR-C-271D Type IVA, Grade A, Class 2 and ASME B30.26. Crosby only uses special bar forging quality steel with special cleanliness and guaranteed hardenability. The design of Crosby shackles assure that strength, ductility and fatigue properties are met.
Crosby load binders are used for vehicle load restraint and lashing equipment used mainly for road and rail haulage and rail haulage industries. Why choose Crosby over the competition? Because they are a top quality lasing system with choice of sizes, styles and capacities and are perfectly suited when hauling expensive or sensitive equipment. By reducing the risk of equipment failure you will help ensure the safety of the load.
We offer in this category fittings / components that are used to make a lifting chain sling. All of the can be purchased as separate items or we at Liftingsafety can assemble the components into a lifting chain sling to our customers specification, please contact our sales team at any time for a competitive quotation.
Crosby McKissick (Champion) Snatch blocks are the most popular items of lifting equipment that we sell worldwide though these only represent a small proportion of the different types of wire rope pulley sheave blocks that we offer, crane blocks, oilfield blocks, hook blocks etc. To name only a few. Special wore rope blocks can also be made to our customers specification.
---
Crosby or Equal? (a fair comparison)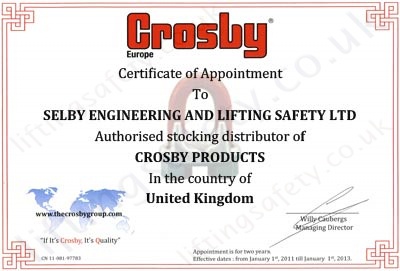 To compare Crosby lifting tackle with alternatives is not simply to ensure that they meet the same British or European Standard though is to compare 'Quality Checks!' and in most cases the evidence will conclude that very few are truthfully equal and this is why Crosby are confident enough to make the public statement that "There is no equal".
Most people would generally agree that manufacturing costs are greater to produce a better quality product, at first glance the prices may appear to be costly though compare the quality and you then see that this is not the case. If using top quality lifting and rigging equipment is an important part of your business (manufacturing procedure or product) then Crosby products should be considered, we at LiftingSafety are pleased to discuss discount levels to enable our Crosby products to be utilised in your product or process; the sale price will be dependent on quantity and usage though we are confident that we can compete with other higher quality manufacturers.
Processes and Standards
Some of the standards, processes, checks, and procedures to ensure quality of the Crosby product range include:
Product design procedure - engineering excellence.
Material control, sourcing and selection procedure.
Quality control and manufacturing techniques.
Tensile strength, fatigue, heat treatment, quenched, tempered and impact properties give for durability and dependability.
Administrative systems.
Certification - Work standards that include ISO9001, American Petroleum Institute (API) and many other world standards (A.B.S, Lloyd's, DNV, etc...).
Traceability and identification (Radio frequency identification).
Reliability and performance.
Research and development of new and unique products.
Range.
Customer service and manufacturer after sales technical assistance.
Product training.
Download the 'Crosby or Equal' documentation from the Crosby catalogue.
Crosby Quic-Check - Radio Frequency Identification System (RFID)
The Next Generation of Inspection and Identification System
Crosby has developed an electronic inspection software that incorporates the technology of RFID (Radio Frequency Identification), to provide a tool to our Business Partners that provides many benefits.
RFID Assisted Electronic Inspection
RFID for the identification and inspection of slings, shackles, hooks and other hardware such as clamps etc.
Quick Facts on RFID
It's an acronym - Radio Frequency Identification.
A better barcode.
Improved, item level serialisation and identification.
Used in manufacturing, livestock, ID cards, contactless payment, safety (hospitals and amusement parks), supply chain logistics.
Crosby "RFID Equipped" products
Eliminator Chain Fittings
McKissick Blocks
Shackles 25t & larger
CrosbyIP Plate Clamps
Crosby Hoist Rings
System consists of:
Crosby QUIC-CHECK® Software
Crosby QUIC-CHECK® PDA
Crosby QUIC-CHECK® SD Reader
Crosby QUIC-CHECK® ID Tags:

Chain.
Wire Rope/Other.
Insert for shackles/blocks.
Swivel Hoist Rings.
Clamps.
Other.
Read more about Crosby RFID - Radio Frequency Identification