Lifting Equipment & Safety Gear From LiftingSafety
LiftingSafety is a well established company specialising in lifting, fall arrest and height safety equipment.
Our company has a comprehensive online catalogue of
lifting equipment
and
height safety equipment
from a vast range of manufacturers, which is continually being developed and updated with new and innovative products added on a daily basis. If the item you require is not listed –
Contact us
and we will do our best to find it!
High Capacity Round Slings
Extreema® Dyneema® Slings
The complete Xtirpa range of davit arms, jibs,
posts, kits and components for confined
space access, fall arrest and rescue.
High Capacity Round Slings
Manufactured in Europe, using HPPE fibres.
Exceptional strength and wear resistance.
Lifting capacities from 15 tonne up to 300 tonne as standard. Higher capacities are available on request.
Around half the weight of standard polyester round slings
Various configuration options such as full HPPE, HPPE core and polyester sleeve or polyester core and HPPE sleeve (weights vary).
Find out more about Grizzly Lifting Slings

Lifting Equipment and Height Safety System Installations/Inspections
Selby Engineering and Lifting Safety are not only a supply company, we are also well equipped to carry out installation, test, certification and examination / inspections of lifting systems such as jib cranes, runway beams, hoists etc. and also working at height systems such as lifelines, anchorage points, fall arrest/rescue davits, etc. throughout the United Kingdom of Great Britain and Northern Ireland.
Contact us for more details or further afield locations.
Lifting Equipment Hire Services
Whether you are looking for a short-term or long-term hire solution, we can assist.
LiftingSafety boasts a moderate lifting and handling hire fleet, ready and available to hire at a moments notice.
Hire equipment held includes Genie lifts, aluminium gantry cranes, lifting beams, chain hoists, lifting slings (chain and fibre), hydraulic lifting jacks/cylinders and pumps. etc.
Please do get in touch and we will do our best to ensure you get exactly what you are looking for as quickly and efficiently as possible.
Extreema® Dyneema® Lifting Slings
8 to 10 times lighter than quality steel.
Up to 2.5 times lighter and 2.5 times smaller than polyester round slings.
Maximum capacity: 4,000MT MBL (straight pull).
Maximum length: 80 metres.
Specific Gravity (g/cm3): 0.97 (floats on water).
Elongation in use: ~ 0,5% elongation at W.L.L.
Weight reduction: Up to 80% compared to wire rope & up to 60% compared to polyester slings.
Effects on chemical exposure: Excellent on (sea) water, moisture (contact us).
Good resistance against acids and alkali.
Find out more about Extreema® Dyneema® Round Slings

Our Product Range
Our policy is to supply high quality lifting and height safety gear to individuals or companies anywhere in the world at low cost! We pride ourselves on delivering what we promise – a quality product/service that is not compromised by the discounts that we offer.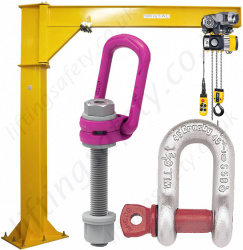 We have a very extensive and ever growing range of high quality lifting and materials handling equipment on offer with big discounts and savings are available to all. Get in touch or request a 'quick quote' to find out more.
View Lifting Equipment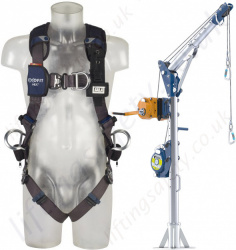 Below is a list of some of the most recently added lifting or height safety products and information which have been added to liftingsafety.
Below is a list of some of the most recent products and information which have been updated on liftingsafety.
We will do our very best to beat like for like quotations. Our sales team have years of experience in delivering the 'best price' for your particular needs.
Please be sure to send us a copy of any quote you wish to compare.
Get In Touch