---
Fall Arrest Anchorage Devices
Anchorage devices include fall arrest equipment made to the EN795 standard, protection against falls from height and makes them an approved anchorage point for connection to fall arrest lanyard, restraint lanyard, rescue kit or emergency evacuation system. We offer a wide variety of products from many top quality height safety manufacturers including Sala, Tractel, Miller, Ridgegear and Protecta and North Safety etc... There is great choice of products and options on this range, displayed on our user friendly website, making this category one of the best online anywhere for fall arrest anchorage devices. Anchorages can be permanently fixed (installed systems) or mobile (portable) dependant on the users requirements. Please note that it is the responsibility of the competent person to make sure the structure to which the anchor is connected to has enough strength and stability to arrest a fall.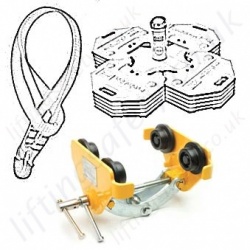 ---
We offer anchorage slings made by many height safety equipment manufacturers including Miller, Sala, Ridgegear, Protecta, Troll etc..... The anchorage slings are certified to EN795 and are used to connect to fall arrest equipment to an anchorage structure. Slings provide a cost effective safe solution, they are available in different styles and lengths. They are mainly made from polyester though we also offer fall arrest anchorage slings made from plastic coated steel wire rope and for stainless steel wire rope.
This category is populated with EN795 anchorage devices specifically designed for use on steel beams, I beams / runway beams. The anchorages either connect to the beam like a clamp to create a fixed fall arrest anchorage point or they allow movement along the beam like a beam trolley, enabling the person working at height to have fall arrest protection along the length of the beam. Please feel free to contact us at any time for advice or for a quotation.
Fall arrest eye bolts are probably the most popular form of fall arrest anchorage device that we sell. There are many different types including temporary and permanent installations. Temporary fall arrest eye bolts are very quickly installed to provide fall protection and are great for providing fall arrest protection where a permanently installed eyebolt may not be aesthetically pleasing to the eye for example on listed or architectural buildings. Permanently installed eye bolts are often used in situations where people need to gain access to a working area at a height on a regular basis for production or maintenance reasons.
Temporary horizontal lifelines provide an anchorage line that can be set-up adjacent to the falling edge so that once connected to the lifeline the user will always remain adjacent to the fall, not subjected to the pendulum (swing) effect if they fall and minimizing the fall distance. We offer a small yet growing choice of temporary horizontal lifelines as made by top height safety equipment manufacturers such as Miller, Tractel and Sala. We offer different lifeline materials made from synthetic rope, webbing and steel wire rope with systems to suit 1, 2 or 3 users at the same time.
Roof top dead weight anchors provide a mobile and portable self-contained fall arrest anchorage system. We offer from three manufacturers, Ridgegear, Sala and LiftingSafety though all systems are a modular knock-down design. The counterbalance weights are connected together making a deadweight system usually with a large footprint and low centre of gravity meaning less weight is needed to be able to halt the shock forces. Dead weight anchors do not penetrate the roof or other surface which support them.
LiftingSafety offers portable vacuum anchor systems for fall arrest and restraint applications with a general industrial version and one designed specifically for the aviation industry. Our portable, user-friendly Vacuum Anchor System is unique. Designed by Sala provides this basic fall arrest system for one person is completely self-contained. No separate pumps, vacuum hoses or other components. It can be powered up quickly and easily with a single, on-board compressed gas bottle or a large capacity detached bottle, or shop air.