---
Fall Arrest Rope Access Harness EN361, EN358 & EN831
The Full Range of Professional Rope Access Technicians Harnesses from Miller are available to buy here!
LiftingSafety offers fall arrest harnesses made to European standard EN361, EN358 and EN831 (All three standards) and are used for fall arrest, restraint, work positioning techniques and rope access (suspended access). EN361 means they are suitable for fall arrest applications (also used to rescue the casualty after a fall) EN358 height safety harnesses have 2 x side 'D' Rings in the hip area that are built into a work positioning belt and provide comfort when the harness is used for work positioning while used with a pole strap/work positioning lanyard, there are not fall arrest anchorage points! The addition of standard EN831 means that the harness can also be used by a rope access technician for suspended rope access techniques. This means that the harness is load bearing (taking the weight of the person) and therefore because it is used for rope access. It is subject to LOLER and must receive a thorough examination every 6 months. (6 months is a maximum period of time)
Rope Access Harnesses from a range of manufacturers including Miller (Sperian) and SALA.
These harnesses are offered for use by rope access technicians for working at height while working suspended. There is an excellent choice of quality harnesses from Miller Sala and Protecta designed to be comfortable to wear while being suspended from a rope system. The different rope access harnesses offer many different features (anchorage points, materials and sizes etc...) for working in different environments and conditions.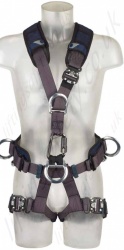 ---
Excellent quality climbers harnesses designed for Rope Access Technicians.
Duraflex (Stretch) and Duratech (Memory Retention) webbing options.
Fall Arrest Safety Harness available with quick release buckles.
Suitable harness for technical rope access, restraint & working whilst suspended.
Harnesses are suitable for abseiling, climbing, mountaineering and rescue from fall.
Options are available that comply to EN361, EN358 and EN831 safety specifications.