---
Rope Guided Fall Arresters (Steel & Synthetic Rope)
A selection of guided fall arrestors from reputable manufacturers, all supplied to you at a discounted cost!
Rope Guided fall arrestor systems are offered online for vertical and horizontal fall protection supplied with / without a synthetic or steel wire rope. They are used for fall arrest, restraint and work positioning applications often used as a temporary fall arrest system on vertical ladders or for roof work applications. We offer a massive range as made by Ridgegear, Tractel, Miller, and Titan so there should be a product to suit all applications.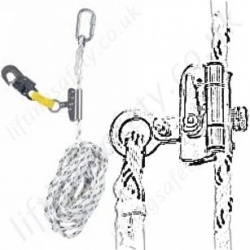 ---
The STOPFOR product is a range of sliding fall arresters (which can also be used as a new-generation lanyard tensioner-reducer). When used as a fall arrester, it can be used with 10.5 to 12.5 mm diameter low-stretch rope. The Stopfor is a new fall arrest concept. Unlike fall arresters implementing a jaw as locking system, the Stopfor eliminates the risk of mechanical blocking. Blocking is ensured by the body when an abrupt change of position occurs. For this reason, the unit is more ergonomic and compact than its competitors and slides easier on the rope with no excessive locking.
By its unique design, the user can adjust his position with one hand, even if the device is tensioned.
The unit can be opened to allow the user to perform maintenance on the product with no need to disassemble the tensioner.