Bespoke and Special Manufacture
We offer a professional design and manufacturing service for bespoke and 'one off' pieces of lifting equipment though are often requested to load test equipment manufactured by others with the intension of using it thereafter as a piece of lifting equipment.
We would be able to carry out the load test, however we would require from you a copy of the technical / quality file, drawing, calculations etc.. This would then allow us to issue both a 'Report of Load Test' and a 'Report of Thorough Examination of Lifting Equipment' in accordance with LOLER 98.
Please note that the capacity that you require the units load testing to must be detailed on the drawing and this is something for our customers to determine as they would officially be the manufacturer. As the manufacturer it would also be the customer's responsibility to write and publish the user manual, to CE mark the equipment and issue the EC declaration of conformity.
Without the calculations and drawing we would only be able to issue the 'Report of Load Test' and this would only state that the equipment had been load tested on that particular day to the load requested - it would not allow for the equipment to be put into service as a piece of lifting equipment.
Our bespoke items of lifting equipment are more costly than similar standard products (or end user made items) though all bespoke items supplied by SELS must have a technical / quality file produced for the CE marking and the goods must be issues with an EC Declaration and a user manual; this creates unavoidable additional costs for design (drawing, calculations etc...), development, manufacturing, testing and commissioning.
We are committed to offering a professional service for the supply of quality bespoke manufactured items of lifting equipment, from concept to delivery. As you can now see it isn't quite as simple as just carrying out a load test on the items if you are using them for a lifting application.
Technical / quality file for bespoke / special manufactured items:
The technical file is the property of the manufacturer. All special / bespoke lifting equipment manufactured / supplied by SELS would be supplied with as "EC declaration of conformity" and "A Report of Thorough Examination" both in accordance with LOLER 98.
The technical / quality file (Technical Data Sheets), technical / design drawing and calculations are the property of the manufacturing company, we for our part do not send these to anyone; the reason is in the past we have sent this information on request from customers only to find they would use them to get other quotations or the unit manufactured in quantity elsewhere / overseas.
When we receive an order for special / bespoke items of lifting equipment we will send the client a general Arrangement (GA) drawing and general specification for approval. Production will not commence until approval is received and approximate lead times are agreed. We are members of the Lifting Equipment Engineers Association (LEEA) and work to our internal quality procedures in accordance ISO9001-2008 as audited by Moody International. Many of the Special manufactured products such as floor cranes are M-O-D and N-A-T-O approved, NCAGE Code U8235. All equipment is supplied complete with Letter of Conformity and Full Working Instruction.
Specialist Lifting Equipment
At Selby Engineering & Lifting Safety (LiftingSafety), specialist lifting solutions are being developed and added to our online catalogue constantly, on a weekly if not daily basis. Having acknowledged that our lifting equipment website / shop is far superior to that offered by our competitors, we find ourselves being continually approached by lifting gear manufacturers, importers, stockists and designers to offer their lifting solutions and products on our website catalogue. This means that you.'The End User' of lifting equipment have an excellent choice of available solutions; there is even a good chance that you can find your lifting solution simply by browsing our catalogue!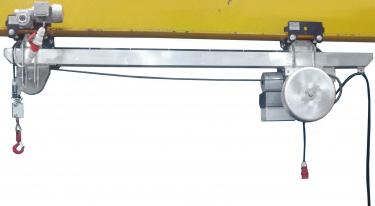 If you, the end user would like a specially designed piece of lifting equipment, LiftingSafety are always up to the challenge and will assist you all the way in having your bespoke lifting solution designed and manufactured to suit your specific lifting and/or handling needs in the most efficient way possible. If you cannot find anything within our website which may be suitable for your application give us a call and we will try our best make it happen and with the fastest turn around feasible.
We will always offer you the most appropriate solution to your lifting requirement whether this involves more commonly required lifting units such as electric chain hoists, manual chain hoists, floor cranes etc. We also design, manufacture, test and certify other custom built and/or special (bespoke) items of lifting equipment like lifting davits (davit arms), swing jib cranes and overhead cranes (offshore and explosion proof). We can offer supply only or testing and installation of lifting equipment. All of our lifting gear is correctly certified and meets all required British and/or European standards.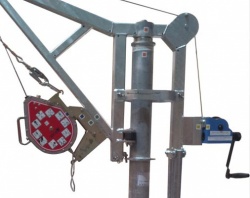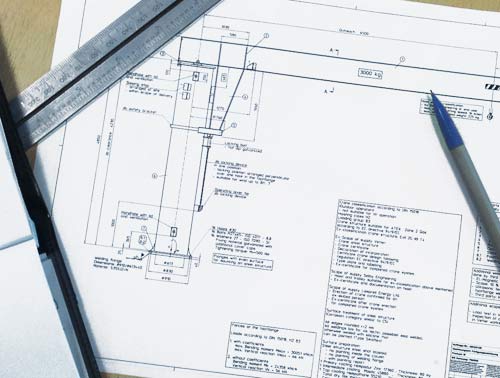 Not sure exactly what you are looking for or needing something that little bit special?
Simply contact us with all the information you can possibly provide and our sales team will source and/or have manufactured the equipment that you require.


Last updated: 10-10-2013 08:51:56