---
Horizontal Fall Arrest Systems Permanently Installed
Permanently fitted systems for persons working at height, in places such as roof tops.
Our range of horizontal fall arrest lifelines provide a flexible fall arrest solution to areas of the work place where employees need to access on a regular basis for routine maintenance or production reasons. An installed lifeline means that the worker always has a fall arrest anchorage point where they need. The system installer will fit the lifeline in the right position / height so that in the unfortunate circumstance that anyone would fall the fall distance will be reduced to a minimum. Reducing fall distance reduces the effect of the fall and therefore there is less chance of injury to the casualty. Please contact us with your enquiry to enable us to offer a competitive system installation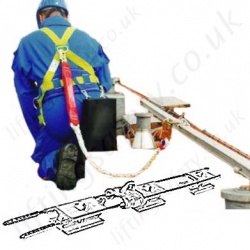 ---
The Soter system can be fitted to most roof types, including metal trapezoidal roof sheets, standing seam and the majority of flat roofing applications, including bespoke solutions to wall and over head locations.
Twin Wire Fall Arrest Horizontal Lifeline System.
Tractel Travsafe Twin Wire Horizontal Fall Arrest Lifeline System gives freedom to move while working at height and can be used for either fall arrest or restraint ensuring safety whilst traversing horizontally over any given distance. The twin wires allow for a much greater factor of safety and applied loading than traditional single wire systems.
Soll stainless steel and aluminium horizontal multi rail fall arrest system - Permanently Installed. Compared to anchorage points which only offer the user a limited freedom of activity dependent on the length of the lanyard, MultiRail rail systems can be installed along the entire work area and allow continuous connection and greater protection. Compared to cable systems and anchorage points, horizontal guide rails offer the advantage that they can be also installed as handrails. In case of a fall, the forces are absorbed by several intermediate brackets and not just by both of the end-fixings, as is the case with cable systems, or by a single point, as it is the case with anchorage points. The rail can absorb retention forces of up to 100 kg (220 lbs.) without permanent deformation. The rail is not fixed in the intermediate brackets, enabling thermal expansions to be accommodated.
Horizontal Cable-based Fall Arrest Anchorage Device.
Soll Xenon Single Line Fall Arrest Lifeline System is an anchorage device incorporating a flexible wire rope. The principal components of the system are; shuttles, shock absorbers, intermediate anchors and end anchors. The Xenon Horizontal Lifeline can provide the perfect safety solution for installation, maintenance and cleaning at height. It can be used; in industrial plants, on roofs, on cranes and over vehicles.