---
Automatic Descenders Using Synthetic Rope
Self rescue decent devices with discounts available. Even bigger discounts available on quantity orders of our auto descenders!
Automatic Self Descenders with Fibre Rope.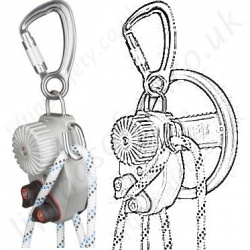 ---
The Derope™ range of descenders are controlled-speed evacuation devices. They are designed to evacuate either one person (up to 150 kg) for a height of up to 400 meters or 2 persons (up to 225 kg) for a height of up to 200 meters. The system allows for sequencing several consecutive round-trip descents, thus making it possible to descend groups of persons, while monitoring the maximum number of consecutive descents authorized.