---
Vacuum & Unique Fall Arrest Anchorage Systems to EN795
Innovative and Unique ways to form an Anchorage Point, supplied by liftingsafety.
LiftingSafety offers portable vacuum anchor systems for fall arrest and restraint applications with a general industrial version and one designed specifically for the aviation industry. Our portable, user-friendly Vacuum Anchor System is unique. Designed by Sala provides this basic fall arrest system for one person is completely self-contained. No separate pumps, vacuum hoses or other components. It can be powered up quickly and easily with a single, on-board compressed gas bottle or a large capacity detached bottle, or shop air.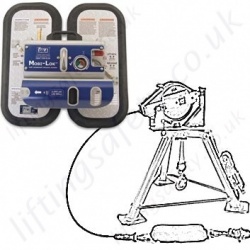 ---
Self Contained Vacuum Anchor Point. For General Use or Specific to Aviation Industry.
With a Vacuum Anchor System at your workers' side, they can anchor to virtually any smooth, non-porous surface simply by flipping a switch and waiting for the green light. So whether they need to repair a skylight atop a locomotive or repaint a section on a water tower, they'll always be able to quickly, and easily put themselves where they need to be without putting themselves in danger.
Leading Edge Anchor tripod for Pre-Cast Concrete.
The first fall protection system designed for personnel who perform work on pre-cast concrete. Compact and Lightweight Design makes installation, use and removal quick and easy. A pair of these could also be used as anchors for a temporary horizontal lifeline. The roof anchor is designed for use by one person with a personal fall arrest system.
Portable, Temporary Anchorage Point on Panel Walls 60-360mm Thick. To EN 795: 2012 Type B
Unique Scaffold Pole Anchor Point, For Vertical and Horizontal Use on Scaffold Poles 44.5mm to 50mm.