---
Manriding Baskets Fork Truck and Overhead Crane
Competitively priced Man-Riding Baskets from Liftingsafety
We offer man-riding baskets to be lifted by fork lift trucks or overhead cranes so that workers can gain access to areas at height in order to carry out maintenance tasks. We offer a large selection of man riding baskets to suit one or two persons though can also supply special bespoke baskets to suit our customer's specification; platform size or number of users! All our man riding baskets have hand rails, effectively providing collective restraint though they are also fitted with personal restrain anchorage points so that the user can connect an adjustable restraint lanyard to provide personal restraint.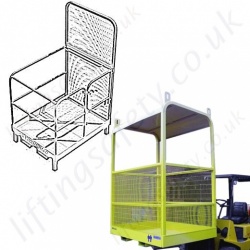 ---
Safety Access Platform for up to 2 Persons - Economy Model.
This fantastic value platform is based on our popular single person WP-SP design, however with a platform size large enough to accommodate two people. Economy model as mass produced, not a reflection of the quality. With a slide up front bar for entry, 500kg SWL, this platform is manufactured and supplied to comply fully with the latest PM28 Health & Safety Regulations. Suitable for use with forks up to 150mm wide x 50mm thick.
Standard Range 1 or 2 Person Fixed Back Fork Mounted Access Platform from 800mm to 1220mm Platforms, with Gate Option
Fork Mounted Hinged Back Access Basket comes with harness rails fitted as standard on all cages, fold down back to ease storage and transport. Available with 4 different gate positions: front, left Gate, lift up bar and step through bars.
Fold Away Access Platform for 2 people with a load capacity of 400kg.
Fork Mounted Fold Away Access Platform offers all the benefits of the standard man-riding baskets but can be easily disassembled for ease of transport and storage. Assembly of the forklift platform takes less than 30 seconds. It's takes only the space of a small packing case when folded, is light and easy to assemble (no tools required), easily transported from site to site, castors incorporated to ease manoeuvrability, the platform locks securely onto your fork lift truck forks, it's totally safe and secure when in use and has a solid chequer plate floor with drainage holes.
Top of the Range 2 Person Fork Mounted Access Platform with a 1000mm by 1200mm Platform.
Fork Mounted Ultimate Access Man-Riding Platform comes with a tool tray, clip-board and a strip light bulb holder. With auto-locking and unlocking to the truck and safety harness. One side positioned gate with a platform size of 1000 x 1200mm.
Access Raised Platform for 1 or 2 People with Platforms from 800mm to 1200mm.
Fork Mounted Raised Access Man-Riding Platform is raised up on legs to give extended height for accessing high racking, roof lights, buzz bars etc. where truck lift height is limited. Available with 2 different raised heights of 500mm and 100mm, with different entry gates: lift up front bar, through bars, front gate and left side gate.
Man-riding Crane Slung Access Platform for 2 or 6 People (Three sizes) c/w Lifting Chain slings Crane Slung Man-Riding Access Basket comes supplied with chains, one safety harness and overhead guard. The basket has been designed to be used either slung from the hook of an overhead crane or mounted on the forks of a lift truck. Available in either 2 or 6 person models: 2 person, either side gate or through bars. 6 person only comes with side gate but with different platform sizes. The overall base size of the unit is 1500mm wide x 1100mm deep. The unit will have a fully meshed back panel, and the three other sides will be meshed to the middle rail. Entry to the platform is via an inwards opening gate on the one 1100mm side. Gate is self-closing and has a gate arrester to prevent the gate being opened when the platform is elevated.
UK Manufactured access platform for 1 or 2 persons with lift-up bar or side gate entry options.
Fork mounted loading platform designed specifically for carrying out the safe loading and un-loading from the bed of a lorry