---
Collective Fall Arrest Systems
We have a Good Selection of Collective Fall Arrest Systems, Apply on-line for a Competitive Quote.
Collective restraint systems provide fall protection to all persons working in the area as opposed to personal restraint systems that only provide restraint for the user. A handrail is a good example of collective restraint and means that fall arrest equipment and a rescue plan is not required.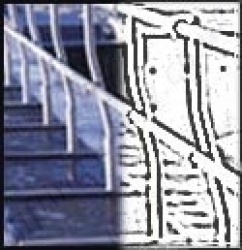 ---
Permanent Guard Rail.
Unlike other freestanding systems, our unique cantilevered design means no unsightly counterbalance weights and a reduced trip hazard, while a high performance rubber mat placed between the base and the roof surface ensures no adverse effect on new or existing roof guarantees. The system is reversible for totally unobstructed access. It's ideal for fire escape routes or a safe passage around hazardous plant machinery or roof lights. The system is reversible for totally unobstructed access.
Demarcation Barrier supplied with bases, uprights and chain to suit your required system length
The Sure-Grip Demarcation Barrier System guides a user across a roof top avoiding fall hazards. The Sure-grip demarcation barrier system should be installed a minimum of 2m from a fall hazard. The system should not be used to guard a fall hazard but to direct people away from one. The system is a non-penetrative, maintenance free, easy to install system designed to create a safe working/ walkway zone across a roof top.
Safety Deck System for Fall Prevention.
The Safety Deck system is a fall prevention and light duty working access platform. The system complies with HSE work at height regulation 2005 top priority of fall prevention and can be used for pre-cast flooring, roofing, ceiling fixtures and finishing trades. The Safety Deck System does not replace the requirement for perimeter edge protection to prevent risks of falls from heights. The safety Deck System is adaptable to any room size, safe, quick and easy to erect by a single person and economical to transport and store. Available with 3 leg heights: 1, 1.5 and 2m.
Sure-Grip Walkway and Collective Protection System. Sure-Grip Walkway creates a safe means of access to all roof works with the anti-slip tread and a delineated route, creating a levelled route and providing a safe access. The walkway is available in 4 different models to suit different roof types - standard panel to suit metal profile roof sheet, standard panel to suit flat membrane, asphalt or lead roof. Valley applications. Fall Protection covers. Available for the following flat roofs; lead, felt, single ply membrane tiled surfaces, slate, clay fragile surfaces stepped applications profile cladding; fibre cement, steel, aluminium valley gutters and roof lights.