---
High Lift Pallet Trucks (Scissor lift)
We Have several High Lift Pallet Trucks on offer at competitive prices, please see below...
The highlifter can transport and lift a pallet to the right working height.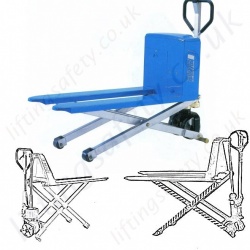 ---
Scissor lift pallet truck with optional manual-hydraulic lift or electric-hydraulic lift up to 800mm.
High Lift Pallet Truck with 1140mm Forks and 800mm lift height. Extremely easy to pump and light weight make this unit very suitable as combined hand pallet truck and lift table. Quick-lift as standard with automatic transfer to normal lifting with loads over 150kg. Automatic descending speed control by a uniquely hydraulic valve, the descending speed always keeps same regardless of whether the truck is with or without load. It will prevent cargo damage from fast descending.
Skid Lifter Pallet Handling Truck with 1115mm Forks. Combination of Pallet Truck and Lift Table Correctly positions skids and work surfaces to minimize back strain. Combination of pallet truck and lift table which is ideal for loading and unloading operations. Heavy duty construction to easily handle loads. Easy-to-use control lever. Two rear swivel castors with parking brakes to increase safety. Foot pump hydraulic operated pedal for easy and fast lifting. Steering handle for easier and comfortable turning.