---
Load Indicators - Specials
Unique products which incorporate a load indicator.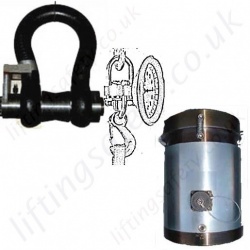 ---
This mechanical load cell has been designed to provide a trip point for lifting systems which have a dead end wire rope.
Tractel DynaSafe are available in the following
HF 32A 1 trip point rope sizes as followers 5 -10mm 5-16mm 17-26mm 27-36mm, 2 trip points rope sizes as followers 5 - 16mm, 17 - 26mm, 27 - 36mm.
HF 32B 1 trip point - 5 - 16mm, 17 - 26mm, 27 - 36mm, 2 point trip 5 - 10mm, 5 - 16mm, 17 - 26mm, 27 - 36mm.
Electronic tension load cell designed to measure effort applied to a wire rope without disassembling the rope.
Cabled or telemetry load shackle. These load buckle shackles are ideal for measurement applications with limited headroom, with capacities 5Te to 1000Te. It features a special load bobbin design. Robust anti-rotation bracket. They are ideal for reduced height load monitoring. Re-chargeable or disposable battery power. Traceable calibration.

Wireless Load Indicator (load cell) with 200m Range, Waterproof to IP66 Standard. Wireless Load Cell are available in the following sizes - 5t 12.5t 25t, 35t, 50t, 75t, 100t, 150t, 200t, 250t, 300t, 400t, 500t.

Stainless Steel Compression Load Cells (load indicator).
Compression Cell - CAPACITIES 100 te to 1000 te.
Stainless Steel load cell.
Optional Swivel Top.
Optional Loading Base
Atex Zone 2 Rated (Explosion Proof) Digital Load Indicator (Load cells). Since 1994 Selby Engineering and Lifting Safety ltd have supplied load cells into the harsh offshore market place where accuracy, reliability and environmental sealing are at a premium. Our cabled unit provides excellent environmental sealing and a choice of displays to suit application. Our well-proven use of high strength to weight ratio allows the production of easy to handle high safety factor units.
Key features: High safety factor; Optional 5 digit display; Long battery life, via easily accessible batteries; 4 switch able units of measurement. Robust transit cases for storage and transport.