---
Materials Stacker Trucks - Manual Operation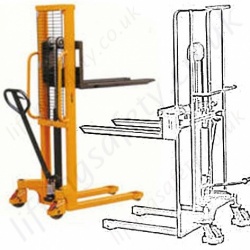 ---
Mini Hand Stacker Truck
This range of mini hand stacker trucks are hydraulic foot pump operated, They have twin wheel brakes and are hard card chromium plates frame. Has a 1.2m to 1.5m lift heights.
Mini Manual Stacker Truck - 1200mm to 1700mm Lift Heights.
This product features a Unique perspex chain protection system. Ideal for lifting and transporting work pieces and also working in a limited space, capable of operating in a container or lorry. Foot pump hydraulic lifting system with twin total stop top quality non marking poly wheels with foot brakes.
Lightweight, sturdy and simple HP trolley lifts
This mobile, sturdy and lightweight your personal "work-assistant" is ideal! Optimum lifting and transporting of all kinds of loads up to 400 kg and 1,2 m lifting height. Ensuring maximum stability the sturdy chassis is equipped with 2 fixed and 2 steering rollers and a wheel brake. Take your individual choice out of four models.
Winch Stacker Truck with 1560mm Lift Height.
This features a compact and service free design, with a uniquely designed winch for easier and safer lifting. Has a heavy duty C section mast and twin parking brakes on the steering wheels.
Pfaff HV 0516, HV 1008, HV 1016 manual hydraulic hand stackers This is our multi-purpose hand stacker unit: With its adjustable and removable forks you get the ideal tool for almost every application. Make only your choice between crane attachments, swivelling mechanisms for barrels, loading tables and all other useful accessories! You will surely find the ideal tool for your specific application! But there is one thing we can guarantee for the flexible HV 0516 due to its low weight and low roller friction. Its unrivalled maneuverability.
Quality hand stacker truck
This stacker has adjustable fork widths for wider or narrower applications. The hydraulic pump means less user effort is required. Heavy duty 1 piece C section forks for extra strength.