---
Corrosion Resistant Pallet Trucks from Stainless Steel & Galvanised
We supply a complete range of stainless pallet trucks, particurlarly suited to the food production industry.
With our stainless products the risk of bacterial attacks is minimised. The trucks are developed for environments in which the hygiene demands are severe.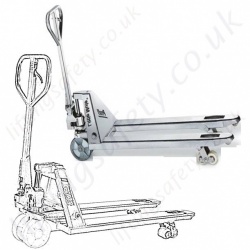 ---
Pfaff Silberblau Proline stainless steel or galvanized steel pallet truck with safe working loads of upto 2.5 tonnes, Forks 1150mm x 540mm.
Stainless Steel - Wherever compliance with hygiene regulations is a must the INOX 316 is the solution. All key parts (handle, chassis, push-rods and torsion-tube and pump housing) are made of high quality V4A-316 stainless steel and are virtually indestructible.
Galvanized - A material combination of stainless and galvanisation - Its speciality is to offer consumers a high level of protection against corrosion. Its frame is hot galvanized at 452 °C with a thickness reaching 100 micro.