---
Crosby Rings and Quad Assemblies
Crosby master rings form the largest part of this category are most commonly used in the make-up of lifting chain slings. Please contact our sales team if you require a complete lifting sling and we will quote you for a readily assembled, certified sling. All the component parts are available individually and are price accordingly where the list price is available from Crosby UK.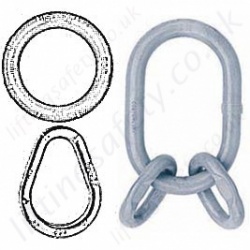 9
Crosby welded master link for use with grade 8/10 chain from 1600kg to 45,000kg (single leg), 1600kg to 65,300kg (double leg)
10
Crosby A-1346 welded master link assemblies.