---
Tractel Man-Riding Hoists and Rescue Winches
Tractel offers a great selection of man-riding hoists with options for both electric powered and manual lifting operation. Manriding hoists are for lifting both people and systems carrying people. They are used to gain access or egress while working at height and also used for rescue application, either after a fall or emergency evacuation. The Tractel Tirak Electric man-riding wire rope hoists are available with many options including overload alarm, limit switches, cable coiling drums etc. Tractel manual man-riding and rescue hoists are available with steel wire rope and synthetic rope dependant on the user application. Please contact our sales team for information or advice.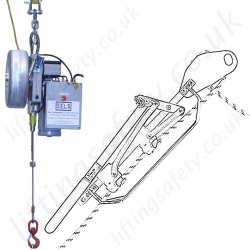 ---
Tractel Evak 500 Rope Winch with Unlimited Length of Rope.
Specifically designed for ease of handling, operation and transport, the unit is particularly compact and extremely lightweight (6 kg). Its overall size is greatly reduced by incorporating a folding operating handle. Even long lengths of textile rope are easy to handle and store, weighing up to two and a half times less than wire rope. The EVAK 500 has been designed to be used exclusively by professionals who have been fully trained in safety and rescue procedures
Manual cable hoist for lifting persons. Models TU6P TU12P TU24P Tractel Manriding Tirfor cable hoist certified for lifting people. This range of man-riding certified Tirfors are available in three different sizes, 600kg, 1200kg and 2400kg capacity. The capacity selected will be to suit the lifting platform in which they are to be used and the number of people/tools and equipment to be lifted. These 'Man-riding' lifting machines must be used with a secondary safety device such as the Blockstop fall arrest device to be fitted to a separate/independent rope; thus providing a fall arrest plan. Consideration must also be made to have a rescue plan in place.

Tractel Tirak electric hoist for manriding hoist with great duty cycle and numerous build options.
Tirak X Series main features are as follow. Unlimited height of lift due to the fact that the wire rope is not stored in the machine. It also features a centrifugal brake for controlled descent in case of a power-failure. Additionally it is fitted with a pendant control which incorporates three buttons, these are up, down and an emergency stop. Travel to the work place with the tirak® at speeds up to 18 m/min which is a significant benefit the higher up you have to go. No matter what height, the tirak® hoist will take you there safely and speedily. Different electrical and pneumatic power supplies available
Manriding hoist with integral blocstop for use with secondary safety rope, Safe Working Load 400kg.
The SCAFOR is a lightweight manual hoist which has been especially designed for light suspended platforms fitted with two hoists or for bosun's chairs or one-man cradles fitted with a single hoist. The SCARFOR hoist can be fitted to painters cradles, bonsuns chairs and one-man cradles, and platforms with fixed or articulated stirrups. Available in 2 models - Scarfor 406C** and Scarfor 408C**. Rope lengths Available - 10m, 15m, 20m, 25m, 30m, 40m, 50m, and 60m.
Manriding Winch Includes a Bracket for Fixing to the Tracpode Tripod, Safe Working Load 250Kg
The Carol rescue winch satisfies all rupture and endurance test requirements as per standard EN13157.It is designed for use with the Tractel Tracpode Tripod. The optional 5mm cable is available in 20m or 30m lengths. The carol winch can be used for work in suspension, if a second safety fall arrest is used. Tractel Carol Rescue Winch Datasheet. A Variable-length control crank handle (6 adjustment positions) allows the user to either apply maximum control force, or perform rapid cranking for small loads or rewinding. The Self-locking crank handle adjustment knob offers maximum user comfort and safety and allows for the adjusting of the crank handle or removal of it to prevent operation of the winch.
Equipped with Rigging Bracket for Attaching to Tracpode Tripod The Derope™ descender is a controlled-speed evacuation device. It is designed to evacuate either one person (up to 150 kg) for a height of up to 400 meters or 2 persons (up to 225 kg) for a height of up to 200 meters. The system allows for sequencing several consecutive round-trip descents, thus making it possible to descend groups of persons, while monitoring the maximum number of consecutive descents authorized. The Derope™ descender is designed for use on sites located at heights which could require emergency evacuation, such as wind turbines, aerial cable cars, derricks, etc. The Tractel® Derope™ range can be used at temperatures between +50°C and –35°C. During the utilization the speed of descent is stabilized 2 meters maximum by second per load of 30 Kg to 225 Kg.