---
Atex Air Hoists, Pneumatic Anti-Sparking, Explosion Proof, Certified Monorail Hoists and Trolleys
LiftingSafety offers in this category air operated Atex chain hoists (Otherwise known as a Pneumatic Atex Hoist or Atex air hoists) and are also available as an Atex monorail air hoist (Atex trolley hoist) These are pneumatically operated items of lifting equipment to either of a permanent or temporary way of lifting, lowering, tensioning and holding a load, in potentially explosive atmospheres. Our Atex air chain hoists are good quality made by Yale industrial products, JDN, Atlas Copco and Ingersoll Rand. Please ensure your preferred pneumatic Atex hoist has a suitable Atex calcification for the Atex zone where it needs to be operated. Please contact us if you do not see the Atex air hoist that you are looking for.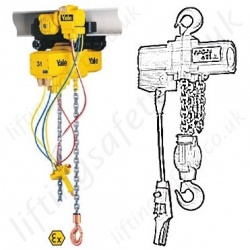 ---
Atex pneumatic chain hoist with suspension hook or with integrated trolley.
With 100% duty rating and an unlimited number of starts the model CPA is suitable for heavy duty applications. It is insusceptible to contamination, humidity and aggressive mediums from the outside. The hoists are composed of three main components which makes service easy and inexpensive. The robust rotating piston has an adjustable spring pressure brake that holds the load secure even in the event of an air failure and a high starting torque due to switching valves in the motor body. Designed for operating pressure of 4 to 6 bar. Copper plated suspension and load hooks. Case hardened and zinc-plated link chain
Heavy Duty Pneumatic Chain Hoist.
JDN Air Hoists PROFI Series are very robust and they are suitable for tough industrial and offshore applications. For traversing loads there are different trolleys that can be supplied; standard Features include being suitable for applications in hazardous areas (ATEX, Zone 2 etc) and have sensitive, infinitely variable, speed control for the precise positioning of loads.
Hook suspended, subsea pneumatic / hydraulic chain blocks.
Standard units can be used to depths of 55 metres, however these units are also available to be used down to a water depth of 70m. Highly regarded as a very versatile hook suspended tool, they can also be used for horizontal and oblique use. Other capacities are available on request.
Available as air or hydraulically powered units, with variable speed control and overload protection as standard.
JDN M Series Pneumatic Chain Hoist with 2 bottom hooks for horizontal transport of loads. JDN M Series Air Hoists come in capacities of 1t to 6t; they were originally developed for underground mining operations. Due to their multiple applications they are nowadays also deployed in most different industrial fields. They have the same features as the hoists of the PROFI series but operate with an air pressure of 4 bar only. Standard Features include being suitable for application in hazardous areas with danger of explosion (ATEC zone two etc). Especially suitable for horizontal pulling applications.
JDN Trolleys for Pneumatic Hoists.
JDN Trolleys are available for all hoists of the PROFI and M series. We can supply as manual trolleys (LN) for pushing or pulling the trolleys by hand as reel chain trolleys (LH) for moving the trolleys by unwinding the reel chain; with motorised (air powered) trolley (LM) powered by an air motor. Standard Features include being easy to install, with anti-climb and anti-drop devices, robust design with little maintenance and able to negotiate curves.
Options: Rack and pinion drive, spark-resistant package, offshore paint.
JDN Motorised Mono-Rail Air Hoist.
JDN Monorail Air Hoists are supplied with air or hydraulic drive for the offshore industry and where heavy loads in reduced spaces have to be moved. Disc brakes hold the load safely in any position immediately even in case of air interruption. JDN Monorail Hoists can be deployed in parallel as, for example, in BOP handling systems or working in tandem connected by a coupling rod.
JDN Motorised Low Headroom Trolley for Pneumatic Hoists.
JDN Low Headroom Trolleys. When only low headroom is available and the standard trolleys don't meet the requirements we recommend JDN low headroom trolleys where the air hoists are horizontally mounted. When only very low headroom is available we recommend the Ultra-Low Monorail Hoists.
Available in 500kg, 1000kg, 2000kg, 3200kg and 6300kg.
Motorised Travel Mono-rail Hoist.
JDN Ultra-Low pneumatic Monorail Hoist are supplied with capacities of 4t to100t, (6 bar Air Pressure) and are the perfect solution where loads have to be lifted and transported in extremely reduced spaces / headroom. For example, the monorail hoist with a load capacity of 6t has a headroom of only 210 mm. Standard features are vast and we offer a large choice of options to built a bespoke low headroom air hoist to suit your application and environment.
JDN Motorised Travel Big Bag Handling Hoist. JDN Big Bag Handling Air Hoists are available at carrying capacities of 1100 kg and 2200 kg with an air pressure of 6 bar and are for big bag handling applications. We offer designs with one or two load hooks. With one load hook for cross beams. The large distance between the hook and the chain box is particularly advantageous. This guarantees that there is no danger of collision between the load and the chain box. With two load hooks for more complex multi-point cross beams or simple rod cross beams with two means of suspension.
Super heavy duty, high speed production hoist. Serving industry for over 25 years, the rugged and reliable MLK series share a common design with many interchangeable parts. With high speeds and precise spotting, these hoists are ideal for high production cycle operations. Both spark resistant, designated with a KR suffix, and slow speed precision spotting models, designated with a KS suffix, are offered.

Liftchain hoists for reduced downtimes and increased safety.
The
I
ngersoll Rand liftchain air hoist has a rugged, compact and lightweight design. All steel construct ion for better durability, particularly adapted for difficult environments. Insensitive to dust and humidity, 100% duty cycle, grade 80 calibrated load chain and corrosion resistant treated.