---
Rigid Arm Counterbalance Floor Cranes
Our Rigid Arm counterbalanced range of floor cranes are fitted with a hand operated or eclectic powered battery wire rope hoist. They are all bespoke, being made to our customers specification. This range of counterbalanced floor cranes are supplied with a rigid lifting arm arrangement. There is no hydraulic cylinder, instead we use a hand or battery hoist mounted to the rear of the vertical column to lift and lower the load. The big advantage being that the hook has true vertical travel all the way to the floor (or below for pumps etc)Options include, Power lifting, Power travel, 30 degree rotation or 360 degree rotation with stabilizer. We offer modified for offshore use and with spark resistant features. There are too many features to list including our modular (Knock-Down) design though please click in to each individual product for a comprehensive list of all available features.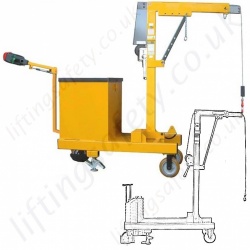 ---
Knock-down (dismantlable) Counter Balanced Floor Crane With 90 degree jib arm (folding when not in use). Stainless Steel Option.Can be made to customer specification.
Heavy-Duty Counterbalance Workshop Floor Crane With 90 degree jib arm (folding when not in use) Stainless Steel option available.
Power Lift and/or Power Travel Counterbalance Floor Cranes With 90 degree jib arm (folding when not in use). Stainless Steel Options.Can be made to customer specification
Very similar to the pivot arm version though with the option of electric power to all movements, customers can choose any combination of options. Reduces the chance of manual injury and increases productivity using a powered winch through a pulley system like this means that we can offer an infinite height of lift.
Heavy duty counterbalance workshop floor crane with load trolley that travels in the lifting arm. Can be made to customer specification
A counterbalance mobile jib crane; effectively a workshop floor crane with traditional style jib crane mounted up front that has an integrated push travel trolley permanently fitted in to the 'C' profile light weight horizontal lifting beam. The load trolley can be used to gain the perfect position above the item to be lifted then allowing movement along the beam when the weight is taken. The load trolley has the facility to be manually locked in a position. All mobile jib cranes with this style of moveable trolley arm are made to our customers' specification, SWL (capacity) height of lift and reach of jib arm. Sizes and capacities can be to our customers specification therefore please contact our sales department if you would like any assistance to choose the most appropriate model and features or if you need a totally bespoke crane.
Lightweight Aluminium Counterbalanced Floor Crane with Changeable Extension Arm and Lifting Forks and 2 Part Counter Balance Trolley with Counterweight.