---
ATEX Certified Load cells & Weighing Equipment, Spark Proof
Atex load cells for weighing equipment where In which an explosive gas/air mixture is continuously present for long periods and this would be Zone 0. Strain gauge load cells in Zone 1 are made to operate in areas which an explosive gas / air mixture is likely to occur in normal operation. Load cells used in working areas In which an explosive gas/air mixture is not likely to occur in normal operation must comply with zone 2. We offer three types of Atex load cell; Crane weighers with integrated top suspension and swivel hook. Standard loaf cells (to 500 tonne) and load weighing D and Bow shackles t0 100 tonne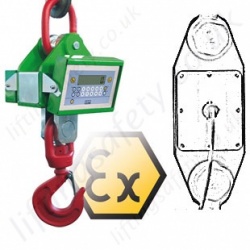 ---
Industrial suspended crane scales for use in areas classified as hazardous. Industrial crane scales for use in areas classified as hazardous (Zone 1 and 21, 2 and 22) in accordance with Ex II 2GD IIC T4 T197°C X protection. Little space is taken up allowing the best use of the lifting devices. Predisposed for an upper connection ring and lower hook. Fitted with test certificate obtained with sample weights, up to 15000 kg of capacity.
Main features: Indicator with 17-key numeric-functional waterproof keyboard; Adjustable digital filter, anti-vibration and oscillation. Programmable auto switch-off power for energy saving. Hermetically sealed extractable rechargeable battery, with 160-hour operating time; rechargeable in safe area.

Atex Zone 2 Rated (Explosion Proof) Digital Load Indicator (Load cells). Since 1994 Selby Engineering and Lifting Safety ltd have supplied load cells into the harsh offshore market place where accuracy, reliability and environmental sealing are at a premium. Our cabled unit provides excellent environmental sealing and a choice of displays to suit application. Our well-proven use of high strength to weight ratio allows the production of easy to handle high safety factor units.
Key features: High safety factor; Optional 5 digit display; Long battery life, via easily accessible batteries; 4 switch able units of measurement. Robust transit cases for storage and transport.



Cabled or telemetry load shackle. These load buckle shackles are ideal for measurement applications with limited headroom, with capacities 5Te to 1000Te. It features a special load bobbin design. Robust anti-rotation bracket. They are ideal for reduced height load monitoring. Re-chargeable or disposable battery power. Traceable calibration.

SP atex approved/certified wireless telementry tension load indicator approved for use in zone 0, 1 and 2 hazardous areas.