---
Tractel Fall Arrest Rescue Block Inertia Reel with Retrieval Winch to EN360 and EN1496
Tractel Fall Arrest Rescue Block Inertia Reel with Retrieval Winch to En360 and EN1496
LiftingSafety offers the Blocfor 20R and 30R fall arrest inertia reels with integrated rescue handles (integrated winch) made to the standard EN360) used to protect to both protect against a fall then rescue the casualty (up or down). They are auto return hook spring recoil fall arrest devices from Tractel, who are worldwide manufacturer of top quality height safety and fall arrest equipment.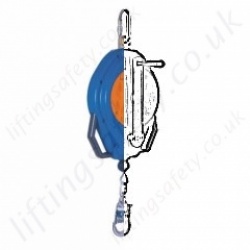 ---
Tractel "Blocfor 20R and 30R". 20m or 30m fall arrest and rescue inertia reel block.
The Blocfor 20R and 30R are retractable lifelines (EN360) designed to protect the user in the event of a fall. They are equipped with a rescue device for lifting or lowering. The BLOCFOR R is an automatic-return fall-arrester equipped with a rescue lifting device. It is used vertically, secured to a tripod to evacuate, upward or downward, a person who has fallen. The maximum utilization load of this device is 100 kg. The cable moves freely at normal user speed but is continuously subject to a light return force by a spring which actuates a drum on which the lanyard is wound. In the event of a fall, the user is stopped by the safety catches which engage.