---
Protecta Man-Riding Hoists and Rescue Winches
The Protecta manual hand winch has a 20 metre steel wire rope and is mainly used on the Protecta tripod though can be used bolted to other structures for man riding and rescue applications.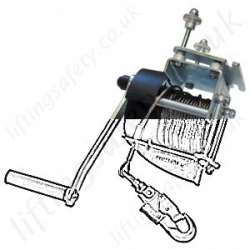 ---
Protecta man-riding and rescue winch specifically designed for lifting people.
This unit is designed for the descent and ascent of a worker in a confined space. It has a built in fixing plate, so is simple to fit to any tripod or swivelling bracket. It has an anti-release safety system with an auto locking friction lining. Winch adaptable to PROTECTA tripod AM100 Anti-release safety system Reduction ratio: 4,5/1 Average speed: 10 cm per handle revolution Stainless steel 20 m with snap hook swivel.