---
General Industrial Lifting Equipment
Probably one of the largest on-line ranges of general and specialist lifting equipment including; beam trolleys, all types of clamps, lifting magnets, pulley sheaves and lifting equipment identification systems / labels. We offer probably one of the largest and most comprehensive ranges of clamps seen anywhere on the internet with lifting clamps to suit most applications and budgets. Please contact our sales team if you need any assistance in identification of the most appropriate item of lifting gear to suit your application.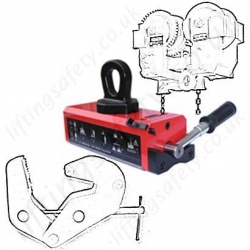 ---
LiftingSafety offer online a massive selection of lifting clamps to cover all user applications. We have clamps that are only for top quality reputable manufacturers the likes of Camlok, Yale, Tractel, Riley Superclamp Crosby and IP Clamps suitable for lifting and handling many material types, steel clamps, concrete clamps, plaster board lifting, glass and other fragile materials. Clamps in this category are designed for lifting application, for pulling equipment, tensioning loads and for holding items in place. Basic design styles include cam locking, screw lock clamps, scissor action lifting and suspension clamps. The main application for clamps purchased from LiftingSafety is to handle steel plates and all types of steel profile and therefore he main lifting clamp categories include, vertical & horizontal plate clamps and beam clamps (lifting and suspension) though there are many other categories including offered in the online catalogue and these include: pulling clamps, non-marking clamps, drum handling clamps, groundworks/construction clamps, coil handling, rail and drop test clamps. We have arranged all the clamps by user application then sub divided by manufacturer to ensure that the end user navigates as easily as possible to the best clap to suit their application. Lifting safety also service & repair clamps and offer user training to help ensure the operator is competent before use. All of our clamps listed are quality manufactured units and come complete with the required certification and technical backup, the majority of which and available to buy online at a special online sale price or sent for a quotation. Contact our sales or technical team if you need any help.
This category is populated with beam trolleys, these are load suspension trolleys designed to have a load or lifting equipment suspended underneath then traverse along a runway lifting beam (otherwise known as a monorail lifting beam made from a rolled steel joist (RSJ) or universal beam (UB) or Universal Column (UC). We offer in our online catalogue shop four sections, different types of Monorail runway trolley. Beam trolleys are a mobile anchorage point that can be fitted onto a lifting beam to suspend lifting equipment beneath, such as a chain hoist. This allows the load to travel along the direction of the lifting beam. A Beam trolley can also be referred to as a load trolleys, a beam runner, 'I' beam crane trolleys, a beam flange roller or girder monkeys. This section is for manual push travel beam trolleys and geared travel runway beam trolleys (Chain drive). Gear travel units are moved along the beam by operating a hand chain and give a greater level of control especially on larger capacities. Most trolleys are adjustable and some are quick release. We offer heavy-duty and low-head room trolleys, also swivel truck trolleys to negotiate tight radius bends on runway tracks where required.
We offer lifting magnets online as manually operated and electric powered from reliable lifting equipment and magnet equipment manufacturers like Bux, Magnetics, Eclipse magnetic, Yale, Tractel. Hand operated lever action lifting magnets are by far the most popular category within the Lifting Magnets section of our online web shop. These are permanent lifting magnets which means that they are used to lift material they are permanently switched on and cannot be de-magnetized with-out operating the magnet lever. All permanent lifting magnets have a 3:1 factor of safety (FOS) when used in accordance with the manufacturers operation and user guide. It is air gaps between the surface of the magnet that reduces the efficiency / lifting capability of a lifting magnet. Air gaps are caused by rust, paint, dirt, oil or other contamination, rough surfaces etc..... and must be taken into account before use. Eclipse uses a safety ship to assist the user to confirming that every lift still maintains the 3:1 safety factor. It works by simulating an air gap when a safety shim is used. Put the safety shim between the magnet and the equipment that need lifting then take the weight with the lifting hoist, if the load is held then when the shim is removed you will have a 3:1 safety factor.
Lifting equipment and height safety equipment in the UK and other parts of the globe are subject to mandatory periodic thorough examinations to ensure that lifting equipment is still in good order and therefore still safe to be used. For lifting gear the inspection period is six (6) or twelve (12) monthly dependant on the type of equipment. Thre are bi-annual inspections for lifting equipment accessories and annual inspections for lifting machines. The colour code tags that we offer enable a visual indication to the user that the equipment is still within an acceptable service period and so should be safe to use though still subject to user inspections prior to and after use. The lifting equipment identification tags are also equally great for visual identification that height safety equipment or fall arrest equipment is still with-in its mandatory inspection period. Fall arrest equipment is subject to 12 month examinations and man-riding equipment every 6 months (man-riding includes equipment and PPE that is load bearing such as suspended rope access equipment). Please note that these tags are an indication only in a scheme designed to work towards ensuring that all lifting and height safety fall arrest equipment is safety to use. Lifting / fall arrest identification tags / labels are part of the system, not the whole system. Thorough examination lifting equipment Inspection periods quoted are the maximum permissible in the UK though must be reduced according to user factors including the working environment, chemical and UV light exposure, amount of use, cleanliness, number of users user inspections etc.... Always for the lifting or fall arrest equipment manufacturers instructions on safe operation, maintenance and thorough examination
Pulley sheaves otherwise known as pulley wheels are used for deflecting the direction of a steel wire rope or a synthetic rope; to change the direction that the rope travels usually between the hoist and the hook meaning that the wire rope path can be located in a safe area. Sheaves are also used with steel wire ropes reeved back and forth to increase the capacity or safe working load of the lifting equipment. Sheaves are available to suit all wire line sizes and can be supplied with many bearing types, either both a plain bore (no bearing) or with centre bronze bush bearing or needle roller bearings. Other options include common bore pulley sheaves, tapered bearing type pulleys, and many options of sheave that are integrated into housing. Sheaved supplied mounted in to a housing are often known as lead blocks and can be bolted to the anchorage surface, welded or fixed by a shackle. Some lead blocks can swivel and other rotate to the direction of the load. We offer sheaves from top level reputable manufacturers including McKissick, Crosby, Pfaff, and Western with options for fast speed operation by a powered hoist or winch (electric chain hoist / pneumatic pulling winch) or slow line speed as would be the case with a hand operated hoist or hand winch. LiftingSafety also manufacture special sheaves to our customers' requirements so please contact us with your enquiry.