---
Tank Side Entry and Vehicle Fall Arrest Systems
Side entry systems for accessing tanks and road tanker vehicle access and egress / rescue systems.
Here we offer vehicle entry, exit and rescue systems, often referred to as tanker fall arrest systems. We have compiled into this category systems and equipment that are used to gain access to road and rail taker and vehicles including mobile steps and gantry systems. We offer excellent solutions for fall arrest, man-riding and rescue.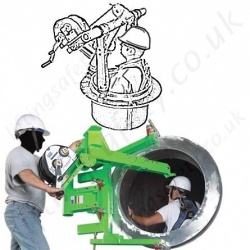 ---
Permanent or temporary confined space horizontal entry / retrieval system. This system is designed for horizontal entries with vertical positioning or retrieval required inside the space. This system can be used in conjunction with either a fixed base socket system or external adjustable tank collar for adaptation to different manholes. Sala (UCL Safety Systems) Side entry/retrieval system that can be installed permanently or combined with a portable external adjustable tank collar.

Adjustable Free-Standing Ladder Access System with Fall Protection combines easy access to elevated work areas with Fall Protection from the ground up We offer 6 different sizes with platform heights from 5.9m to 12.2 metre - all 6 are fully height adjustable, they are a free-standing ladder access system with fall Protection that combines easy access to elevated work areas with fall protection from the ground up for the duration of the work being performed. Each unit comes standard with adjustable handrails, foam-protected platform, two anchor davits and a fall-arrest ladder anchor which provide a total of three attachment points for the anchorage of a Personal Fall-Arrest System.
Adjustable freestanding horizontal rail system (FSHRS) from DBI-Sala (UCL) Systems.
We offer 7 different sizes with platform heights from 3.4 to 11.7 metre - all 7 are fully height adjustable and come in lengths from 3 - 6.1 metre. Our DBI-SALA's Free-Standing Horizontal Rail Fall Arrest System combines the simplicity of a horizontal rail and trolley system with a portable support structure to provide reliable fall-protection where it's needed and when it's needed. This system is ideal for work on or near sensitive equipment such as aircraft where physical contact is undesirable. It's available in a range of heights, widths and wheel styles and is constructed of lightweight, powder-coated aluminium and zinc-plated steel and can be ordered to fit your application's requirements
The Portable Tanker Access Ladder System (PTALS) is designed to provide safe access and Fall Protection for workers to elevated work areas such as rail cars, tankers and large platforms. We offer 6 different sizes with platform heights from 2.7m to 6.5 metre - all 6 are fully height adjustable with 1.5m of adjustment on each. The range of height adjustable Sala UCL Portable Tanker Access Ladder System (PTALS) from DBI-Sala is designed to provide safe access and fall-protection for workers to elevated work areas such as rail cars, tankers and large platforms