---
Sala Advanced Davit Arms Systems - Massive Range!
Providing a safe means for workers to access and work on all types of Confined Space Safety Systems.
Sala advanced davit systems confined space access and rescue systems are probable one of the most versatile modular systems on the market. The Davit systems made completely from lightweight aluminium and can be built into many different types of specialist davits. The main feature is the Davit pole which can be supplied with a massive choice of height safety equipment including man-riding hoists and inertia reel retriever blocks. Versatility is the key with this unique Davit system. It's built around two choices of fully adjustable horizontal jib arm and both jibs have height and reach adjustment via the sliding tube and fine adjustment via the threaded bar. All other components are fully customised to match your individual requirements. The vertical pole is supplied as either 1, 2 or 3 piece dependant on your needs with combinations enabling a portable davit systems to be supplied up to 3378 mm overall height and 1067mm reach. The Davit is then used with one of the many different types of socket of built into one of the specialized systems. Other Davit supports include Man hole davits, Catwalk davit, A vehicle mounted davit, and a counterbalanced davit system. Probably one of the most popular ways of using the Sala advanced davit is in the 5 piece system.
Confined spaces can be below or above ground and are found on most job sites. Each year many workers are injured or killed while performing their daily work activities in confined spaces. Confined spaces have limited openings for entry and exit which complicates rescue/retrieval and other emergency response services. These often dangerous work environments are enclosed or partially enclosed and not designed or intended for long-term human occupancy. A restrictive confined space can represent health and safety risks to anyone who enters.
Capital Safety is the only global company that has been dedicated entirely to fall protection and confined space entry/retrieval and rescue. Our ISO 9001-2000 certification drives superior engineering, quality manufacturing and unparalleled customer service. Our design and engineering teams excel at finding the best way to keep workers totally safe and comfortable.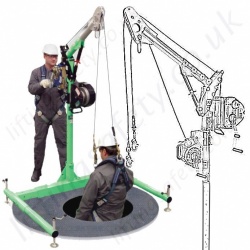 ---
Sala (UCL) Advanced Confined space access and rescue system. Up to 3.378 m High and 120cm reach
Sala (UCL) Confined Space Entry System for Manriding, Fall Arrest and Rescue Applications. Wide choice and combination of hoists and inertia reels The Davit system is supplied in many configurations though here we offer as a free standing (self supporting) unit with a fully adjustable 'U' shaped base for wrapping around the confined space point of entry. The forward facing legs provide the stability; thus no expensive socket installations are required. The system is easily and quickly assembled then packed away into a carry-bag, perfect for multi site applications. The 'U' shaped bases are supplied in two sizes, standard and extra wide and both are fully adjustable in the width and length of the legs. Each corner of the 'U' base is height adjustable for use on uneven ground!
Portable anchor point for confined space entry / retrieval, rescue and fall arrest system. Offered primarily for use by Water Authorities for safe working around access chambers to wet wells and culverts etc... though also adapted by heavy industry and manufacturing as a truly portable height safety problem solver! The Vehicle Hitch Mount davit system is designed to install directly to a 2" (51mm) hitch \ tow ball to provide a portable anchor point for confined space entry, man riding, fall arrest and rescue. The vehicle becomes the counterbalance weight granting the versatility for a davit to be quickly installed at any remote locations where otherwise the user may need to either install permanent sockets or carry and install ballast weights on a much larger and less portable davit system complex. Various options and extras are available.
Advanced Counterweight System - Complete systems and accessories including hoists and inertia reels. Counterweight davit system: The Sala (UCL) Counterweight davit arm System is consists of a davit and Woking equipment (hoist, inertia reel etc..) connected to a totally free standing base (self supporting). The anchoring system includes a weight rack that uses counterbalanced / ballast weights to provide support for the davit arm. No floor penetration is required and the complete system is a modular / knock down design that can be assembles in minutes providing a safe means of manriding, fall arrest and rescue from height.

Counterweight trolley on wheels with advanced davit system, modular in design, fully customisable with a choice of hoists and fall arrest equipment. Offers a portable solution to move your counterweight davit system easily & effectively in areas throughout a plant on level ground. Weight plates sold separately. The Sala Advanced Counterweight System is composed of a central base unit that connects to the davit arm and accessories (hoist and inertia retriever block etc...), height adjustable front legs and a counterweight trolley cart providing the anchorage of the system.

Connected via single anchor point, allowing you to work from direction from any angle. Complete with optional man-riding hoist.
The perfect solution for confined space entry / retrieval applications. Connects via a single suitable anchorage point. The 2 piece system attaches with a carabiner on the universal bracket to any suitable anchor point, allowing you to work in any direction from any angle. The system has a unique swivle head that rotates 360 degrees, providing unparalleled flexibility in both vertical and horizontal confined-space entries.
Overall length adjusts from either 4' - 7' (1.2 m - 2.13 m) or 6' - 10' (1.8 m - 3.05 m) for positioning attendant for working in close quarters. Custom Pole Hoist sizes are available.
Suspended Walk Way Davit System Catwalk Clamp with a wide choice of man-riding hoists and fall arrest blocks. A temporary davit Arm system made from lightweight aluminium for use with the Advanced Davit Hoist Systems, providing a portable anchorage system for use on suspended walkways; used on mezzanine and concrete floors. Fully adjustable and supplied with working equipment for man-riding, fall arrest and rescue to suit our customers. There is a primary pulley, secondary pulley, auxiliary suspension point, inertia reel, "Fine" Height/Reach adjustment screw, fall arrest inertia real with backup retrieval winch, reach "length" adjust and man lifting winch which is manually handled or powered via overload clutch drill attachment. Davit top / davit arm assembly (modular). Extension Pole. RSQ - Self rescue block.
DBI-Sala (UCL) wall clamp Davit System with a great choice of fall arrest inertia reels and man-riding hoists. Specifically designed as a barrel mount and for use with the modular davit arm. Set-screw design provides fast and easy installation, clamps to material up to 4 inches thick. Allows for 360 degree rotation of davit arm for added versatility and work site flexibility. Portable design with built-in carrying handle makes set-up and storage quick and easy. Durable, corrosion resistant zinc plated steel construction.
Available to fit 8 different sizes of man hole and supplied c/w choice of man-riding hoists and Fall arrest inertia reels Designed for applications involving frequent setups over similarly sized access openings. Lightweight, powder-coated aluminium construction for portability. Comes with PVC sleeve liner. Custom sizes and shapes available.

Highly efficient and economical confined space entry/retrieval alternative to a tripod. The Advanced Basic Hoist is the most efficient and economical confined space entry/retrieval alternative to a tripod. This lightweight aluminium structure assembles and adjusts without tools. A cost effective option to the more Technical advanced davit systems - Can be supplied complete with hoist (Maximum 15 metre) and fall arrest retriever block. The Advanced Basic Hoist is the most efficient and economical confined space entry/retrieval alternative to a tripod. This lightweight aluminium structure assembles and adjusts without tools.

---
Combining experience and knowledge with state-of-the-art outdoor and indoor testing procedures, we produce the most technologically advanced safety equipment in the world. This equipment exceeds both national and international standards, including OSHA, ANSI, CSA, CE and AS/NZS. We call it "creating a higher standard of safety."