---
Wind Turbine Lifting Equipment, Wire Rope Hoists & Chain Hoists
A selection of hoists specific for the wind power industry, or other non specific hoist which we have deemed suitable for use on wind turbine farms.
We at Liftingsafety have brought together a selection of hoists, some of which specifically designed as a Wind turbine hoists and others that have been designed for other industries though may meet the requirements for offshore use with-out the premium price tag.
We are working with wind turbine manufacturers, operators and maintenance contractors to develop the ultimate maintenance hoist that would offer all the qualities required.
The hoists/winches in this category are for maintenance of the turbine generators, as used only occasionally by maintenance crews for lifting tools and equipment on to the platform or into the upper pod. Wind turbine hoists should be robust enough to stand up to tough offshore weather conditions and still remain reliable, they need to have adequate IP electrical protection, have a fast lifting speed while remaining competitively priced.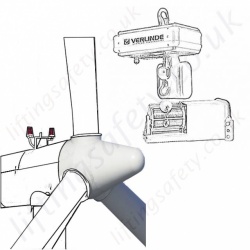 ---
Tractel Tirak electric hoist for material lifting applications, multiple configurations and infinite height of lift.
Tirak X Series has an unlimited height of lift because the wire rope is not stored in the machine, centrifugal brake for controlled descent in case of power failure and pendant control with up/down and emergency stop.
Lighter than the T-series, the X-series are most suited for bosun's chairs, inspection harnesses, one-man cradles and light suspended platforms.
Lifting Hoist, 220v, 110v or 3Ph Electric, 23mpm or variable lifting speed up to 45mpm.
Wind Turbine Chain Hoist by CM. Electric Chain hoist for use on Wind Farm. Capacity from 250kg to 1000kg.
Electro- dynamic braking eliminates heat generated by typical designs. Precision machined and hardened liftwheel: exact fit of chain in liftwheel provides smoother operation and reduces chain vibration, superior gear protection, lifetime lubricated.
Wind Turbine Chain Hoist by CM. Electric Chain hoist for Windmill. Capacity of 250kg.
Better control on long lifts: Smooth, slow speed starts and stops, fast speed for load transition. Variable frequency drive (VFD) option is also available on the Lodestar. Precision machined and hardened liftwheel: Exact fit of chain in liftwheel provides smoother operation and reduces chain vibration.
Options on 250kg Turbine Chain Hoist: Safe working load, voltage, suspension type, height of lift required (metres)
Suspension: Hook or trolley
Wind Turbine Electric Wire Rope Hoist by Verlinde. For use in Wind Power Generation Farms. 250kg Capacity. singe or 3 phase options.
DC electro-magnetic disk motor operated brake designed to last as long as the hoist itself. This winch is designed to be heavy-duty to provide very long durability and low maintenance to its owner. Extremely quiet running. Noise level: 65 decibels
Wind Turbine Chain Hoist - up to 690v.
Options on Wind Turbine Chain Hoist: Safe working load, trolley required, height of lift is 16 to 80 metres.
Wide range of lifting speeds:16 and 4 m/min, 24 & 6 m/min and 32 & 8 m/min, upper and lower electric limit switches
Brake clutch system: DC electromagnetic disk brake made to last as long as the hoist itself.
Hook: Upper hook (detachable) and lower hook complies with DIN standard, Motor: Thermal protection
Electric Wire Rope Lifting Winch Designed for wind turbines.
Davit Arm Swing Jib Crane.
Supplied with a Manual and Electric wire rope hoist. The manual hoist acts as a back-up though is also commonly used to raise (and lower) the electric winch from the sea going vessel.
Hoist mounting: The Electric hoist is mounted on to a foot plate fabricated to the Davit socket; the winch wire is then deflected over a pulley wheel.
This is for ease of installation and to avoid unnecessary manual handling that would otherwise be required raising the winch.
Quick release mountings are combined into the design.
Wind Generator / Wind Turbine Capstan lifting Winch with either Electric, Hydraulic or Petrol Drive.
Improved design features a multiple-planetary drive/backstop-clutch assembled on the centre shaft of a steel gear case with full-length internal teeth. This design handles more rugged jobs, extends service life and reduces maintenance. Lightweight yet powerful, these portable hoists move many heavyweight tasks and can get into remote or difficult-access sites.
Available either 454kg (1000lbs) or 1361kg (3000lbs).
---
More about Wind Generator Hoists
Wind turbine hoists are designed to meet the specialist requirements of this industry, with capacities and line speeds to suit your specific needs.
Both onshore and offshore electricity wind turbine generators require large drum capacities for high lifts and a fast lift speed.
Because they are mostly used for maintenance of the turbine they must be quality manufactured for reliability. We offer our own unique design and distribute for Yale, Verlinde, Pfaff etc...
They are more commonly mounted on the generator head though can also be mounted at ground level and the rope deflected over a pulley wheel.
Power supply voltage to customers requirements and; they can be fitted on to a crane system, davit arm, jib crane, fixed mounted or deflected over a pulley wheel.
Wind turbine hoists are unique in the lifting industry, we have the knowledge and specialist expertise to offer a bespoke hoisting solution to every wind turbine lifting project.