About LiftingSafety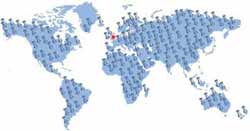 LiftingSafety aspire to be like the "Google for Lifting Equipment". Hopefully our competitors aspire to be like us! LiftingSafety is the foremost re-seller of lifting and height safety equipment on the World Wide Web. We probably offer the most comprehensive and most professionally presented selection of quality lifting and height safety equipment available anywhere (and constantly evolving). LiftingSafety delivers excellent content; great choice, well-structured and easily navigated with buying options effortlessly configured with the minimum of technical knowledge. The best optimization combined with the finest catalogue is proving to be a winning combination and delivers endless relevant enquiries, keeping the business pointing forward. The internet never sleeps, as we rest others awaken; LiftingSafety is trading 24 hours every day to exploit all possible opportunities, casting our net far and wide.
It is widely acknowledged that our lifting equipment website, catalogue and shop is far superior to that offered by any of our competitors and constantly improving, we find ourselves being continually approached by lifting gear and fall arrest manufacturers, importers, stockists and designers to offer their products in our website. This means that 'The End User' of lifting equipment has an excellent and ever growing choice of available solutions. It is likely that you will find your lifting solution simply by browsing our catalogue, if not then simply contact us and we will assist you in any way possible! LiftingSafety aim to become 'The' reference point for both the lifting industry and end users alike. We are not an on-line catalogue company; we are a professional lifting equipment company with a great on-line catalogue!
Lifting Equipment Supplier in the UK and the "rest of the world"
LiftingSafety specialises in the sale, supplies, hire, repair, Installation and testing of all types of lifting and Fall Arrest equipment, manual, materials handling and fall arrest equipment solutions within the UK and all over the world.LiftingSafety are a Global Trade company exporting over 70% to all continents of the world. We are able to offer an efficient delivery service to suit all your lifting and height safety requirements. We are currently trading with many companies throughout the world, including major oil and gas companies within Europe and The United Arab Emirates
Be Assured with the Quality of our products
We are ISO9001 Accredited and have a reputation for quality and service and have the necessary skills, knowledge and experience. Having been established for over 15 years and located in Sherburn in Elmet between Leeds (West Yorkshire) and York (North Yorkshire) and we offer a high quality supplier service nationwide which focuses on all aspects of lifting equipment and Fall Arrest Height Safety regardless of client location areas.
Why choose LiftingSafety for Industrial, Commercial Lifting or Height Safety Equipment?
We advertise as LiftingSafety though our registered Trading Name is Selby Engineering & Lifting Safety Ltd and we are based in Sherburn-in-Elmet, near Leeds, West Yorkshire, England in the United Kingdom and have been operating for 15 years. We are approved distributors of most major manufacturers of lifting equipment, and height safety equipment. We are ISO 9001 accredited, ensuring our customers receive the quality products and services they expect. We design, manufacture, install and certify complete bespoke lifting height safety / fall arrest systems plus rescue systems for persons working at height.
Printed Catalogue
Sorry - we no longer print a copy of our catalogue. Most of the items that we sell are on our web site www.liftingsafety.co.uk though the list of products is being up dated on a daily basis with new, innovative and alternative items so please let us know if you cannot find what you are looking for and we will do our best to fulfil your requirements.