---
Fall Arrest Davit Arms & Posts for Working at Height
Standard and Custom Davit arms at Extremely Competitive Prices!
LiftingSafety offer Davits made to our customers specification manufactured from galvanised steel, stainless steel or from lightweight aluminium. We offer two main designs of lightweight portable davit arms for working at height applications, 'Lean Over' type davits and 'Vertical Pole' type davits. The vertical pole davits are usually supplied with a split vertical pole with male / female socket to make manual handling easier. They are suited to applications where there is an obstruction which must be worked around (like over a handrail). Because the unit is relatively compact, it offers an excellent solution for a confined space or restricted access environment. Many of our customers from the offshore oil and gas industries utilise our davits in either aluminium or stainless steel as the working environment demands. Stainless steel lifting davit arms are utilised by food production industries, where stringent regulations must be adhered to with regard to cleanliness. All of our special davit arm jib cranes can be manufactured to our customers specification (height of lift and reach) and are designed for the lifting of people (man-riding application).
A Davit arm used for working at height is basically a portable lightweight anchorage device, EN795 certified and used in fall arrest scenarios, suspended rope access work (Man riding) and for rescue of persons, either after a fall or for emergency escape from a dangerous situation in a confined space (examples: through fire, poisonous gas or due to a medical condition).
We offer two main designs of portable davit arms for working at height applications:
'Lean Over' type davits; these are the most popular because they are cheaper and come apart into smaller lightweight sections.
'Vertical Pole' type davits; these are particularly suited to applications where there is an obstruction which must be worked around or over, like over a handrail or a piece of machinery, they also give greater available space around the person suspended from the davit. To keep individual component weights to a minimum the vertical pole is usually supplied with a split in two halves, connected with a male/female socket, this makes manual handling easier.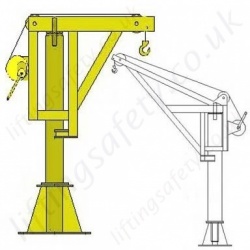 ---
EN795 Certified Davit arm for Manriding, Rescue and Fall arrest. Available with Man Riding Winch and/or Inertia reel c/w integrated rescue winch.
EN795 Certified Davit arm for Manriding, Rescue and Fall arrest. Available with Man Riding Winch and/or Inertia reel c/w integrated rescue winch.
EN795 system with 110v, 220v, 400v Electric Powered Vertical Pole Man Riding Davit Arm with fall arrest protection and independent rescue facility LiftingSafety offer our fully powered mobile Davit arms made from lightweight aluminium or galvanised steel for fall arrest and man riding applications. All systems are supplied with independent fall arrest and manual rescue/retrieval winch included. It is designed for maximum portability and can be make at dimensions to suit our customers working environments; both height and reach with a wide choice of sockets including bolt down, wall mounted, inverted and cast in concrete.
Mobile suspension jibs that allow very fast access to building facades, Modular Galvanised The mobile portable suspension jibs allow very fast access to the building facades using many types of temporary platforms. A free standing mobile man riding anchorage / suspension jib that is also used by rope access technicians. Cantilever reach and safe working loads to our customers specification. Two additional height adjusters fixed on the mobile front and rear cross bars. An additional telescopic jib to reinforce the structure. Two crossbar extensions at the front to increase its stability.

Dead Weight Anchor System for roof top working. This Portable Cantilever Deadweight Anchor requires no attachment to structural members. It's easily moved across roof surface, removing need for multiple attachment points. Rope lines held away from edge of building reducing risk of abrasion. It provides full fall arrest protection before approaching edge. Aluminium, galvanised and rubber coated parts requiring minimum maintenance. Installed, the system is extremely stable and will not migrate across the roof surface either in normal use or when arresting the fall of both a worker and a rescuer up to a 200kg limit. KSAccessAnchor has been designed for easy transportation and installation with no part over 25kg or 2 metres.

Potex Portable Davit Arm complete with 30 metre Winch. Many Different Base / socket Options. Height : Fully extended: Maximum outer height 2.25m Height below carabiner: 2.1m. Fully retracted: Minimum outer height: 2.05m Height below carabiner: 1.9m. Length :Fully extended: 1.3m Fully retracted: 1.3metre Width: Fully extended Maximum outer width 1.3m. Width between feet 1.11m. Fully retracted: Minimum outer width: 1m Width between feet: 0.81m. Body : Aluminium Screwjack : Galvanised steel Winch : Galvanised steel sheet Wire : 30 meters - Ø4.8mm galvanised steel Reach of lifting wire : 395mm
Lightweight, portable, safe custom units that are also certified for man-riding and manufactured to customers specification One size fits all? Not in the lifting market where organisations are routinely faced with extreme or unusual lifting challenges. Off the shelf lifting products often don't offer the flexibility and adaptability to cope with more challenging situations. Innovative T-DAVIT design and manufacturing stand head and shoulders above others in the market, being lightweight, portable, custom designed and manufactured around the specific needs of the individual.
Compact, lightweight design ideal for use on top of transformers or other types of vertical platforms with potential fall hazards. It's compact and lightweight design of only 38 lbs (17.2 kg) makes the post very easy to transport and put in place. The system features 3 independent swivel anchor points. They can rotate 360 degrees, offering freedom of mobility for up to 3 workers with self-retracting lifelines or fixed length lanyards. Provides three independent swivel tie-off points for fall arrest anchorage (Three worker maximum in any configuration), three-stage/four-position telescoping design and aluminium construction for easy transportation and set-up, leveling screws allow the system to be plumbed to vertical on inclines up to 15 degrees and portable and fixed bases allow for versatile usage. Suggested applications: Electrical transformers, leading edge deck work, confined space and rescue, industrial presses, bridge cranes, large cranes, limited horizontal lifeline applications.
LiftingSafety Stainless Steel Man Riding / Rescue Davit and Accessories.
---
Davits - Additional Information
Our lightweight portable man-riding/rescue davit arms are made from galvanized mild steel though can also be supplied made from ultra lightweight aluminium or corrosion resistant stainless steel if required the preferred choice for the offshore oil and gas industries.
Stainless steel lifting davit arms are supplied into the food production offshore and pharmaceutical industries. We consider all of our height safety davits specials because they are all made to order to our customers dimensions and with accessories to suit the customers working at height/confined space application.
We also offer davits for materials lifting applications, again to our customers specifications and up to 1000kg safe working load (SWL)
Fall arrest, Man-riding and rescue davits are very portable, easily transported between jobs - reducing the overall cost as one davit can service multiple sockets. We offer many standard socket options for our davit arms though can also make sockets to suit the customers support structure.
The davit arms supplied by Selby Engineering and Lifting Safety are often the first choice for architects and engineers worldwide because our range is potentially that big; by being able to design and manufacture adaptor brackets on to our davit.
We can supply with just about any accessory from any manufacturer that is commercially available. Usual accessories are; Man-riding winch, rescue winch, inertia reel fall arrest block and retriever/retrieval block.