---
Access and Safety Related Equipment
LiftingSafety sell Portable access equipment as used for many different types of work, for maintenance, access & egress and for production processes. Our working platforms are manually or electrically manoeuvred and lifted; our scaffold towers and ladders come in many different sizes and are easily and quickly assembled. LiftingSafety safety products include load weighing tackle (load cells, load links, load shackles or crane weighers) which are designed as a connection between the lifting hook and the load. The load cell indicates the weight of the load as it is applied to the hoist and it helps to prevent overloading a crane. Load arrestors are a safety product to catch a falling load. They are a fall arrest block for materials applications. We offer on-line an outstanding range in capacity, (SWL) and cable length. Spring balancers (tool spring balancers or load balancers), neutralise the weight of the tool or equipment suspended by them making the tool seem weightless while suspended on a retractable wire rope. Again a much underused piece of safety lifting equipment. Please contact our sales team for a competitive quote.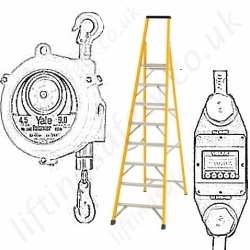 ---
Load arrestors are designed as a safety device to arrest (catch, stop) falling equipment if the primary lifting devise fails while being lifted lowered or for equipment that is permanently suspended. The fall may be caused by mechanical, electrical failure of due to anchorage point failure. Load arrestors are also known as fall arrestors, materials arrestors, safety fall arrester. Load arrestors are commonly used on lifting machines such as electric chain hoists, stage lighting rigs in the theatre and in mechanised production processes such as pallet strapping and shrink wrapping machines etc... Load arrestors provide a secondary back-up safety devise that, in the event of the load free falling will prevent damage to the equipment impacting on the lower surface; more importantly 'material load arrestors' also stop the load from dropping onto or in the region of people below weather working of members or in a public place such as in a lighting rig in the roof space of a shopping centre. A Load arrester is designed for arresting material and equipment and not to be used in systems for arresting people or equipment carrying people / persons.
A tool spring balancer are a type of lifting equipment that will take the weight (neutralise the weight) of a tool or equipment which is attached to it and this is achieved by applying the correct tensioning a spring of the tool balancer. Because the tool spring balancer now takes the load effectively the item is now nearly weightless. If slightly more tension is applied the return spring of the tool balancer than the self weight of the tool the tool being balanced then the tool will retract slowly; the more tension that is applied to the spring the harder it will be for the operator to pull down the tool. For example, if the if the tool self weight is 50kg and 51kg of load tension is applied to the balancer spring then it will take 1kg of user effort to pull back the tool. This means a tool or piece of equipment can be positioned where ever it is required, and moved with the minimum of effort from the user. The spring balancer can be set so that the tool or equipment will not move until the user repositions it manually.
Industrial load cells are a safety product used by all industries to show the weight that the weight of the equipment suspended underneath it, they incorporate a strain gauge to measure the force needed to cause mechanical deformation of the load pin. Load cells are most commonly attached to a lifting equipment hoist to ensure that the crane is not overloaded. When a crane weigher / load cell us used attached to a hook the operator can clearly see as the load is being applied to the hoist; as the operator inches the lift the weight taken being taken by the increases until the load is fully suspended. At any point at the load increases if the operator observes an overload they can reverse the lift. A load indicator is also known as a load cell or a crane weigher. LiftingSafety offer online three main categories; Crane Weighers to a maximum capacity of 35 tonne which have a master ring and a swivel hook built in to the body of the cell, the master ring connects to the hoisting hook and the swivel hook to the load. The Crane weigher permanently displays the load in a large LED or LCD onboard display. These are normally left semi permanently on the crane hook rather than used as / when needed. The next category is eye / eye digital load cells which can be supplied to 300 tonne with IP protection to IP66 and suitable for heavy industrial and offshore use with display options, on board display, cable with handset and radio remote control. Finally we offer special application load cells for example load shackles, load pins, compressive load cells and mechanical load clocks. Technically a load cell is a transducer used to convert a force to an electrical signal by the force deforming a strain gauge which measures the deformation electrically.
Access platforms are used to carry, manoeuvre and lift people; to elevate a worker safety working at height. All our access platforms are manually manoeuvred (push travel); most are power / battery lifting though we also offer options that are manually lifted by hand winch. Otherwise known as mobile elevated working platform (MEWP) there design offers a multitude of special features whilst offering the user varying platform heights. They have been developed for indoor, low-level access allowing reach to a wider range of applications. Order pickers are easy to manoeuvre and fit through a standard door way; perfect for major project installations and for routine building maintenance with working capacity up to 200kg (Including operator weight) Working heights and platform sizes on our range of man access platforms and order pickers varies by manufacturer and product.
We offer a great selection of quality scaffold towers made from galvanised steel or made from light weight aluminium designed for heavy industrial use. All our scaffold towers are offered in a range of platform heights and platform sizes with single width towers for confined spaces and double width towers where a greater size working area is needed. Single width lightweight, adjustable, portable, folding scaffold Towers have a platform height from 1.8m, 3.80m or 5.8m (3 options); double width goes to 12 metre platform height. All are sold with HSE safety equipment including toe boards stabilizers and hand rails and can be supplied as folding towers. Galvanised steel scaffold towers are made from heavier material than alloy towers though are more durable for more demanding environments.
We offer online a range of industrial quality mainly UK manufactured ladders and steps with many different types including access systems made from steel (painted) from aluminium, from fibreglass and from stainless steel. Our steps and ladders are for professionals rather than for domestic or DIY use, they are heavy duty and made to last the test of time. We offer options with different working heights, with handrails, tilting and collapsing (modular steps) and steps with working platforms, brakes etc... Please contact our sales team for a quotation.