---
Swivel Eye Bolts Rotating Lifting & Lashing Points, Side Load Certified
We stock several Lifting Points from Various Manufacturers at discounted price!
A swivel lifting/lashing point is also commonly referred to as a hoisting eye or load ring aswell as a lifting point.
Majority of lifting and lashing products available to buy online here are high quality lifting/hoisting points manufactured by RUD.
Hoisting eyes are available online from 400kg up to 20 tonnes, although higher safe working load limit units are available upon request.
Also in this category are RUD eyebolts and nuts
The eye bolts and nuts within this category are available from 400kg up to a huge 200 tonnes each.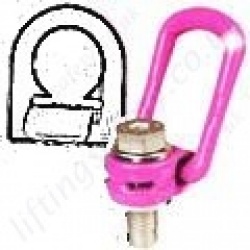 ---
The patented new design of the Rotating Lifting Points make it suitable in applications where a conventional lifting point would not be fully adequate. Intended to be used as a lifting point, lashing point or towing attachment.
---
Bolt Down Lifting and Lashing points are available in various designs such as Eye nuts, Eye bolts, Excavator Hooks, Swivel Hoist Hooks, Load Rings, Swivel Load Rings and Hoisting Rings.
A Bolt down lifting point may be the solution to your lifting needs and if it is then we will either have the correct model or we can inform/supply the correct lifting device to suit your hoisting application.
Various Hoisting/Load capacities are available to either buy or quote online.
Working Load Limit (WLL) options are available from 400kg all the way to a heavy 50 tonne capacity.
If you are unsure which lifting/lashing point you need the link below might prove very useful in solving your problem.