---
Other Counterbalance Floor Cranes
In this category we offer very unique floor cranes, some with long reach and very high lifting capability. LiftingSafety's telescopic floor crane is the ability to provide a rigging solution in remote 'difficult to access' areas and environments due to is small, compact and very portable design. The crane enables a rigger to position the lifting hook 'above a lift' in very confined and tight working areas. We offer great versatility at a competitive price.. The mobile Mini jib crane was developed in collaboration with users to ensure that it is practical manual handling aid, approved by the Technical Control Board (TÜV) in Germany this is a top quality piece of lifting equipment as totally unique in its design. The crane features easy handling and increased work place safety through high quality products standard. These are just to fantastic examples for special counterweight floor cranes presently available.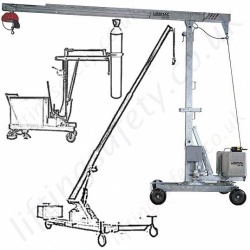 ---
Mobile counter-weight jib crane with rotating jib arm, height adjustable. An easy to handle mobile portable jib crane. Many options up to 6 metre tall and 5 metre reach. A counterbalance design made from galvanised steel with optional electric power to all motions, electric jib rotation, electric drive, self-erecting and powered trolley. A totally unique portable crane for materials handling. Various other options are available such as telescopic vertical column for adjustable height and chain hoist/trolley etc. Capacities are 300kg, 400kg and 500kg (dependant on boom length) with working heights of 4.5 metre to 6 metres high and boom lengths from 4m to 5m. Standard voltage on all models is 3Ph 400v 5Hz. Also available in 1ph 110v.

Counterbalance Drum Handling Floor Cranes. Rim grip, Side / Top Grip or Auto Grip, stainless steel options.
Sizes and capacities can be to our customers specification therefore please contact our sales department if you would like any assistance to choose the most appropriate model and features or if you need a totally bespoke crane.
The counterbalanced drum handler is a custom made floor crane to our customers specific requirements; for example drum type, size and weight, height and reach of lift, vertical, horizontal, tilt, turn or dispense; many methods of attaching, gripping clamping to the drum. Contact our sales team with your requirements and we will design a counterbalance drum handler to your specification.
Examples of counterbalance floor cranes for different and unusual applications.