---
Counterweight Davit Arm With Spark Resistant Features / Explosion proof.
Free-Standing Counterweight Davit Lifting Arm - Mobile Counter-Balanced Davit.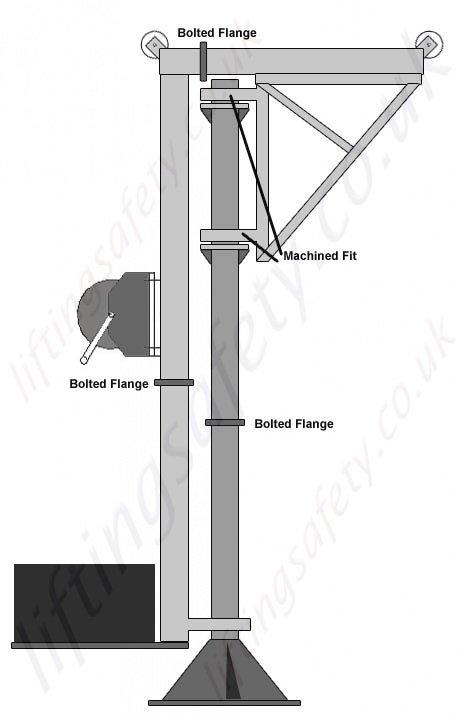 Unfortunately this davit is no longer available. Please see our full range of davit arms for a possibly suitable alternative.
Product Under-Construction
Davit Cranes With Spark Resistant Features / Explosion proof.
SELS can include any anti-sparking features that our customers specify on Davit lifting arms that we manufacture that are intended to be used in potentially explosive areas / atmospheres (Zone 1 & 2 etc...) – These features will the davit's anti-sparking properties and therefore make the crane more suitable for use in such potentially explosive environments!
SELS will not to take the responsibility of supplying our Davit cranes described as 'spark proof' or 'Explosion Proof' as this is 'too broad' a term. We believe that total compliance is probably impossible because of the mechanical operation and movement of a davit crane; i.e. we cannot offer a 100% guarantee that no part of the assembly is capable of generating a spark capable of igniting a flame! We supply / manufacture our cranes with anti sparking features according to the requirements and specification of our customers and therefore we ask our customers to provide a detailed specification and not just ask for Saprkproof or explosion proof . Our cranes have been successfully supplied to customers in the offshore Oil and Gas industry in the UK on the basis.
---
---