---
Yale Mechanical (non-hydraulic) Jacks - Head and/or Toe Lift
Yale Taurus Mechanical Ratchet Jack - 10,000kg on Head, 5000kg on Toe. A quality product manufactured by Yale and brought to the market by LiftingSafety. Yale SJ Mechanical Steel Jacks - Range from 1500kg to 10,000kg and can basically be used to lift almost all kinds of loads in maintenance and repair, ship building, construction as well as agriculture to name a few. We also offer from Yale Hi-Lift All Cast Jacks (farm jacks or 4x4 Jacks) with max lift heights available at 981mm and 1263mm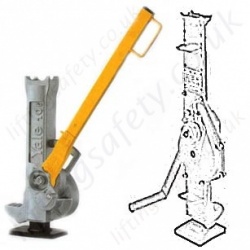 ---
Light-weight confined space mechanical ratchet jack. The Yale Taurus lift jack is a mechanical ratchet jack with a capacity of 10 tonnes on the head and 5 tonnes on the toe; a quality product manufactured by Yale. This mechanical ratchet jack is designed for operation in confined areas where space below the load is restricted, thus preventing the use of traditional lifting or jacking equipment. In spite of its lifting capacity of 10,000kg's, the Yale Taurus has a weight of just 30kg's and the carrying handle makes it a portable, versatile tool.
Steel Jack with permanently fitted lifting toe (reduced capacity on the lifting toe).
Yale SJ Mechanical Steel Jacks are available in the following sizes - 1500kg, 3000kg, 5000kg, 10,000kg.
Yale Steel Jacks are mechanical action jacks (no hydraulics) and are frequently used for assembly applications and to brace or support loads. A Mechanical steel jack can basically be used to lift almost any kind of load in maintenance and repair, ship building, construction as well as agriculture. The integrated carrying handle makes it a portable and versatile tool. The load can be positioned either on the head or the claw, and by turning the operating lever jack shaft moves up and down on the rack.


Hi-Lift All Cast Jacks (farm jacks or 4x4 Jacks) with max lift heights available at 981mm and 1263mm. Hi-Lift all-cast jacks are all-cast jacks manufactured by Yale and are available in 2 sizes: HL-485 (122cm) and HL-605 (152cm). The top winch-connector clamp component gives the jack its multi-functionality, allowing the jack to be used in winching and clamping modes. Each jack is tested in accordance with ASME / ANSI B30, 1992 standard giving a rated load capacity of 2114kg and a tested load capacity of 3175kg