---
Scaffold hoist Accessories
Some of these scaffold hoist accessories come as standard with some of the hoists that we sell online. Accessories are to make the lift easier, safer and sometimes they make a lift possible where otherwise it would not be. We offer Buckets for lifting tools and equipment etc, bucket carriers and scaffold wheel barrows. We also sell specialist anchorage points for creating a lift through a window or between two floors of a building. A counterbalanced scaffold gantry will give you a free standing independent lifting facility that will not need clamping to a structure or bolting to a floor.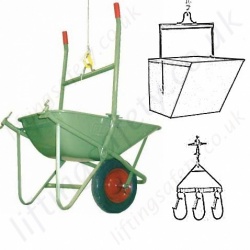 ---
Scaffold Hoist Brick Basket at 200kg Capacity.
Wedge shaped bucket for use with scaffold hoists.
This product is designed for lifting materials using a scaffold hoist.
Options are available in the following capacities: 45 litre, 90 litre or 120 litres
2 or 4 Bucket Carrier.
The Bucket Carrier is designed for use with a Scaffold Hoist.
Options for the lifting of 2 or 4 buckets are available.
Scaffold Hoist Lifting Hooks at 60kg capacity.
Maximum Capacity: 60kg
Weight: 3kg
Length: 360mm
Height: 410mm
Width: 65mm
Scaffold hoist attachment for fixing a scaffold hoist to scaffolding. Can be used with Swivel Extensions. Ensures the correct mounting of the hoist on the scaffold. In comparison to the clamps attachments, the use of this accessory reduces the stress transmitted to the scaffold by spreading the load over a larger area. The scaffold attachment for hoists is also fitted with a pre-aligned-plate for locking the work positioning lever.
Extendable Scaffold Hoist Swivel Bracket for S150 Hoist. Using the swivelling extension with an extendable bracket hoist will increase the distance in which the hoist can reach and also allows the hoist to be rotated from the bracket.
Swivel Extension for Scaffold Hoists.
Using the swivelling extension with extendable bracket hoists increases the reach, with the max. carrying capacity reduced to 150kg

Adjustable Internal Scaffold Hoist Prop. Internal Adjustable Prop allows use of a hoist indoors or where external scaffolding structures are not present. Simple and quick to mount, the height of the prop can be adjusted from a minimum of 2.45m to maximum of 3.3m facilitating adaptation to most different locations.
Scaffold Hoist Window Prop.
The Window Prop is an attachment designed for the small job-site or refurbishment work where the work area cannot be obstructed. Using the hoist applied on the window prop leaves the whole working area completely free.
Adjustable External Scaffold Hoist Prop.
200kg capacity.
The external prop consists of an internal prop and conversion kit with ballast.
The prop has limited dimensions and can be dismantled for storage and transportation.
The External Prop allows the hoist to be mounted outdoors where overhanging support points are not available.
Safety Pulley / Gin Wheel fitted with Automatic Brake at 50kg capacity. The exclusive automatic braking system locks the lifted load as soon as the rope is released by the operator. Safety pulley allows all the tasks normally done by the scaffolding erectors: Lifting of loads; lowering of loads and lowering of the empty rope. Suitable for 18-20mm rope (MBS 250kg)