---
Cargo Restraint Ratchet Straps for Load Restraint
High quality and economy ratchet straps at affordable prices!
A variety of single part and two part ratchet straps / lashings, available in various standard or custom lengths and a small choice of capacities.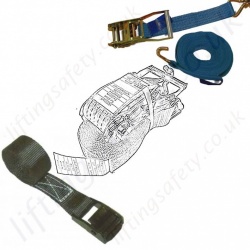 ---
Quickest & easiest to use ratchet available - 2x faster than a standard ratchet
2000 daN, 50mm, Blue, With Wire Hook Gunnebo Ratchet Lashing Straps - 5,000kg, 2000 daN, 50mm, Blue
Quality assured and flexible British manufactured two part ratchet strap lashing systems. Designed and manufactured cargo control equipment to the latest approved international standards. There is a broad range of systems available for a wide variety of restraint applications. Used for restraining heavier loads such as machinery, metal work, concrete pipes.



Quality assured and flexible British manufactured one part ratchet strap lashing systems. Designed and manufactured cargo control equipment to the latest approved international standards. There is a broad range of systems available for a wide variety of restraint applications. Used for restraining heavier loads such as machinery, metal work, concrete pipes. Also used to retain loads such as motorcycles, suitcases, packing materials and many small loads. Can be used for threading through the vehicle side material to strengthen and operate the curtain or within small vans to secure all types of loads to the side of the vehicle