---
All types of equipment for use in mechanics workshop can be found here, at exceptional prices!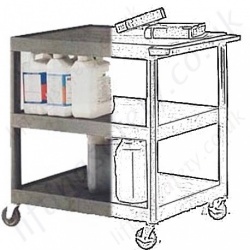 ---
LiftingSafety offer online a massive online Drum Handling Equipment category with all types of devices to assist or remove the manual handing effort required when lifting, pulling, turning (rotating right, left, front and back) or dispensing from a steel or plastic drum. To make navigation as simple as possible we have divided all the products in this category by user application, these domains are Fork lift truck mounted drum handling equipment, Hoist hook suspended drum handling equipment and manually manoeuvred drum handling equipment (pedestrian drum handling equipment) we have then slit the products onto attachments suitable for particular drum types; steel drums, "L" Ring Drums, 110 litre Fibre drums and Egg Shaped Plastic Drums. We offer drum attachments that grip around the circumference, that strap around the drum, hydraulic operated grabs, rim grip attachments or top ring connecting. All our drum handling equipment is good quality and mostly made here in the UK.
All the lifting hydraulic jacks use pressurised oil to raise the load by the user applying force on the jack handle. The handle is connected to an integrated (built-in ) pump. As more pressure is built up in the hydraulic circuit with repeated pumping of the handle the jack will extend in length of the cylinder, thus raising the load.
Mechanical jacks do not use hydraulics to lift the load, they use mechanics. examples are; Rack and Pinion, Ratchet jacks, Lifting Screw Jacks, Journal Jacks, Rack Jacks,Work gear Jacks, Spindle Support Jacks and Sluice gate Jacks, and of course all these jacks serve a different purpose, further technical details are available by clicking 'More Information' button. We offer a good range of capacities sizes and heights though if you are unsure about the most suitable jack simple contact our technical team for assistance.
LiftingSafety offer a wide and comprehensive range of high pressure hydraulic lifting cylinders, rams and hand pumps to suit heavy duty industrial applications. This type of single action lifting cylinder tend to use a remote / independent hand pump making them ideal for use in confined spaces. The lifting cylinder is separate to the hand pump though connected with a hydraulic hose which can be a long as needed meaning that the person operating / controlling the lift can be situated in a safe area away from the actual lift. Lifting cylinders operate at very high pressure, 700 Bar / 10,000 PSI. We offer in our online lifting equipment catalogue hydraulic lifting systems up to 1000 tonne capacity on many different sizes and types of cylinder. Flat or Pad jack are very low height, than we also offer standard height and tall cylinders along with hollow centre jacks. Lifting cylinders with Locking nuts provide a mechanical means of holing the load preventing the ram lowering under load. Single stage rams have spring return. We offer a good range of Hydraulic hand pumps manual and electric with different reservoir capacities (amount of oil) and as single stage and two stage; twin stage pumps oil very fast at low pressure and then when the oil pressure rises the lifting speed automatically reduces and lift the load. Hydraulic hand pumps are hand operated or foot operated.
Our heavy duty engine cranes are supplied in two basic styles; as a rigid parallel leg, non Folding floor crane that have stabilizing legs that are 'Fixed' (not hinged) forward facing and parallel to each other as opposed to the lighter duty Folding engine crane design that has 'V' shaped legs. Both are heavy duty construction for intensive industrial use and can be supplied in a modular knock down design for the ultimately portable maintenance crane. We are offering best quality portable hydraulic workshop cranes with many safety features and options to tailor to suit most environments and application, they are overload tested to 25% and are the ideal lifting solution for many applications where quality, manoeuvrability and reliability are necessary, meaning it can be trusted for lifting. Folding engine cranes are easy to move around the workshop and can be folded when not in use for easy storage. All models are also available made from stainless steel for offshore and pharmaceutical use etc, or simply for when a corrosion resistant crane is necessary.
LiftingSafety heavy duty counterbalance floor cranes are top quality manufactured in the UK to the highest quality standards to our customers specification in many different styles and suitable for many applications and industry sectors. Every counterbalanced floor crane is individually tested to 125% the SWL of the crane. They are a portable item of lifting equipment at provide a cantilever lifting hook forward from the front of the crane chassis where other lifting products are unsuitable. There is a wide choice of options available including power lift and power travel. The Counterbalanced crane design allows the operator freedom to work very close to machines or over obstructions that would not be possible with traditional floor cranes that use front stabilizing forward facing legs for stability.
Liftingsafety's category got gas bottle handling equipment. Gas cylinders are usually filled with explosive gasses and therefore extreme care should be taken with the moving, lifting and storing of gas cylinders. We therefore have introduced a new category "Gas Cylinder Handling Equipment" which includes a good range of gas cylinder trolleys and gas cylinder trucks. Most of our cylinder trolleys are UK manufactured and made to the highest quality standards. All the Gas trucks are fitted with large wheels, mostly large diameter for use on rough surfaces. Some trolleys have two castors and others have a third rear castor to provide additional support, making transportation much more stable and therefore safer. LiftingSafety also offers a good choice in cylinder lifting trolleys and gas bottle lifting trucks fitted with lifting eyes for hoisting with overhead cranes. All our cylinder trolleys are manually manoeuvred and can be made to suit all size cylinders; we look forward to hopefully receiving your enquiries.
The scissor lift table is a manual handing aid and are offered online presented in two categories; as mobile scissor lift tables and static scissor lift tables (no moving / fixed). Castors are fitted to tables that need to be moved between jobs or used to move the load while loaded. Static scissor lifting tables are permanently left in place; they can be countersunk into the floor so that when retracted the table top is flush to the floor surface or free standing / bolted to a floor. Fixed scissor lift tables are much more stable and therefore better suited to greater height of lift and capacities. Fixed scissor lift tables are often used in production processes of as loading platforms. The key features of a scissor lift table are as follows; Capacity (The maximum weight that the table can safety lift). The table top dimensions (the size of the table needed to support the load / carry out the task). The height of lift needed (this refers to the maximum height as well as the minimum lowered height). Working environment is a consideration that should not be overlooked. (We can make lifting tables for outdoor use with corrosion protection such as galvanized or stainless steel construction as also used in the food manufacturing industries.)