---
A series of conveyor belts and conveyor belt systems for production line and materials handling solutions.
More conveyor belt systems will be available to view on-line in the near future, if you require more information in the mean time regarding other conveyor systems, please contact us.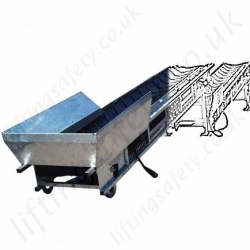 ---
Conveyor belts with 110v / 230v single phase, 0.37kw or 0.5kw options. Individually controlled units can be set up in series. Vulcanised endless rubber belt - no mechanical connection. Galvanised steel, heavy duty frame (more durable than aluminium alternatives). Easy to use with minimal installation time. A simple belt scraper keeps the belt clean.
The movable supports allow you to place each conveyor belt exactly above the next one. Handy hoppers ensure that each conveyor belt can be loaded perfectly.